Boy guilty of Malaysian student attack in London riots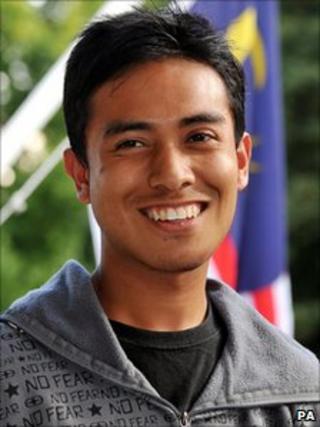 A 17-year-old boy has been found guilty of an attack on a Malaysian student during the summer riots in London.
Ashraf Rossli's jaw was broken in two places when he was punched and his bicycle was stolen in Barking, east London, in August last year.
Beau Isagba had denied causing and inflicting grievous bodily harm but admitted stealing the bicycle.
The judge at Wood Green Crown Court praised a pair who recorded the attack on the 20-year-old on a mobile phone.
Mr Rossli had come to the UK about a month before the riots.
Lifting an order which banned identification of Isagba, Judge Witold Pawlak said: "I agree that this is a case in which there is a legitimate public interest in knowing the outcome of the proceedings and the identity of the defendant ... This was an exceptional case.
"He is facing a long prison sentence.
"There's no reason I can see that he should remain on bail."
'Very ashamed'
The teenager will be sentenced on 9 March, a day after his 18th birthday.
The judge praised witnesses Weng Tsang and his girlfriend Diana Frutos Perez, who recorded the scene on her mobile phone, for being "extremely public-spirited in coming forward to help the police in their inquiries".
The trial heard that Mr Rossli was cycling along a flyover on his way to a friend's house with another friend when the attack took place.
He managed to escape one group of rioters, who lunged at his bike and rucksack, before being attacked by the teenager who was in another group.
Mr Rossli told the court that he was punched in the face and felt blood pouring from his mouth when he turned around after realising that someone was removing his mobile phone from his left jacket pocket.
The punch broke his jaw in two places and doctors had to fit two metal plates to repair the damage. His friend managed to escape the rioters and get home.
In his defence, Isagba told the jury that he had been egged on by a crowd of 100 onlookers.
He said he regretted his actions and "felt very ashamed" of himself. He added that he had been drunk at the time of the incident and did not realise someone was being injured.