Christopher Tappin: Date set for extradition to US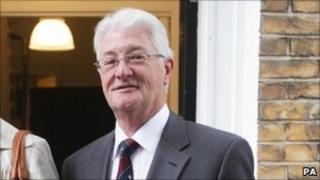 A date has been set for the extradition of a retired businessman wanted in the US to answer charges of conspiring to sell batteries for Iranian missiles.
Christopher Tappin, 64, of Orpington, south-east London, lost a final appeal on Monday to block his extradition.
He denies trying to provide batteries for Hawk air defence missiles.
His lawyer said Mr Tappin had been ordered to attend Heathrow police station on 24 February where US marshals will escort him to America.
Karen Todner said on Monday that as the European Court of Human Rights rejected his plea, his extradition was expected within 10 days.
Mr Tappin has previously said he was the victim of an FBI "sting".
In January his attempt to block the extradition through the UK courts ended when High Court judges Lord Justice Hooper and Mr Justice Cranston refused to allow him to take his case to the Supreme Court.
Mr Tappin is wanted in El Paso, Texas, on a charge of conspiring to export defence articles without licence or approval and aiding and abetting the attempted export of defence articles without the required licence.
He is also accused of intentionally and unlawfully attempting to conduct financial transactions from the outside to a place inside the US, with the intent to promote the carrying on of a specified unlawful activity.
If convicted, Mr Tappin could face up to 35 years in jail. The extradition request says Mr Tappin had been involved in the conspiracy since April 2006.