Sylvester Akapalara murder: Man jailed for 30 years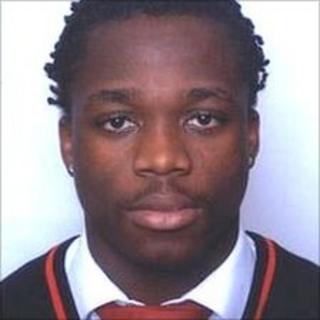 A gang member who killed a promising young athlete in south-east London has been jailed for a minimum of 30 years.
Sodiq Adeojo, 20, of Shurland Gardens, Peckham, was found guilty at the Old Bailey in December last year of murdering Sylvester Akapalara, 17.
He was chased by youths armed with a gun and knives and found bleeding to death in a stairwell on the Pelican estate in Peckham in December 2010.
In sentencing, the judge attacked the "mindless" violence of gang culture.
The court heard that Adeojo was a member of a gang who were looking for rival gang members when they came across Sylvester and his friends.
Judge Timothy Pontius said: "Such is the prevailing culture in areas of London that young men, and mere boys, for whatever reason, seem to be attracted and stimulated by the idea of belonging to a group that does not recognise accepted boundaries of decent human behaviour."
'Remarkable ability'
During the trial, the court heard Sylvester was shot in the chest and neck.
Two of his friends, who were with him, were stabbed as they tried to force their way through the main door of the block of flats, which was guarded by some of the youths.
Neither Sylvester, who was a member of Herne Hill Harriers athletics club, or his two friends lived on the estate.
Three others were cleared of the murder while another is facing a retrial.
Prosecutor Duncan Penny told the jury: "After a verbal exchange the three were being hunted down by a group of other youths.
"That second group came ready for the task at hand. One had a handgun, the others had knives."
Defending, Andrew Hall QC said Adeojo was attending college, adding: "We are not dealing with a hardened young thug."
Judge Pontius said Sylvester was "in the wrong place at the wrong time", adding that he was a "promising young athlete of remarkable ability".
Adeojo was also ordered to serve 22 years in jail for two counts of attempted murder, and 14 years for having a knife and a gun, all to be served concurrently.
An impact statement from Natalie Williams, whose mother fostered Sylvester, was read to the court.
In it she said: "He was a gifted young man who never got to achieve his dreams."
He began living with the family in June 2010 as his mother was still in Nigeria.
"My mother has fostered many kids over 20 years and this was the first time she had lost one of her kids in this way," Ms Williams said.
"She was devastated by the horrific attack on Sylvester that ended the life of such a lovely young man."