Abu Qatada row could make him 'a cause celebre for extremists'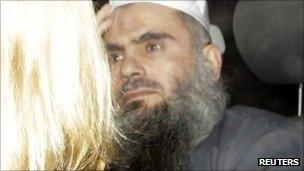 A community group has warned the controversy over Islamic preacher Abu Qatada's release could make him a "cause celebre" among extremist groups.
Muslim Safety Forum's Azad Ali has also warned against portraying activities of some fringe groups "as a phenomena".
Qatada was freed from Long Lartin jail on Monday and is effectively under house arrest in Wembley, north London.
London Mayor Boris Johnson said it was "odd" that 60 officers should be dedicated to monitoring Abu Qatada.
Home Office minister James Brokenshire is in Jordan seeking reassurances from the Jordanian government about Abu Qatada's treatment if he is deported to the country to face trial.
A judge released him last week, after he spent six years in detention in the UK, following a European Court of Human Rights ruling blocking his deportation to Jordan. He is under strict bail conditions.
'Wasting taxpayers' money'
Mr Ali, the chair of the Muslim Safety Forum, who knew the preacher personally, said: "When Abu Qatada came into this country I used to go to many of the talks he used to do.
"If he has committed a crime he should be charged, if he hasn't then he should be released, that's the bottom line.
"At the moment the way he has been treated, six-and-a-half-years without charge, has made him a cause celebre and it allows extremists to use this case for their perceived injustices.
"Of course there are fringe groups that are extreme and that have looked at extremism as an escape mechanism... but to say that it has become a phenomena or something so serious... is counter-productive."
Mayor Boris Johnson said Abu Qatada's release means police time will be wasted.
"From the point of view of most Londoners, they would think it's a bit odd that 60 officers should be dedicated to round the clock surveillance of Mr Qatada," he said.
Ken Livingstone, Labour mayoral candidate, has called for the cleric's "speedy extradition" and criticised the government for "wasting taxpayers' money on a house arrest".
The release of the cleric, who has been described as Al-Qaeda's spiritual leader in Europe, comes months after a report from Waltham Forest Council highlighted that the borough was vulnerable to extremism.
The September 2011 report said there could be a "high number of Al-Qaeda inspired extremists and radicalisers" in the area.
It also raised fears the area was vulnerable due to "perceptions of inequality driven by relatively high deprivation levels, particularly within Pakistani communities" and "'Jihadi cool' possibly linked to macho gang culture".