Petition to restrict Southwark bookmakers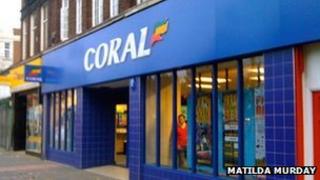 More than 1,100 people have signed a petition backing a campaign to restrict the number of betting shops.
Southwark Council's High Streets First campaign comes after residents raised concerns over 77 betting shops in the London borough.
The campaign wants a change in planning laws so that bookmakers moving into spaces emptied by businesses like banks or post-offices could be blocked.
Bookmakers say they create jobs and support the local economy.
Currently bookmakers are classed as financial and professional services for planning purposes, similar to banks or post offices, and they can move into premises emptied by a business in the same class without planning consent.
But the Association of British Bookmakers (ABB) said the council has the power to refuse premises licenses.
Councillor Rowenna Davis, for Peckham, who launched the campaign, said the council was not against the gambling industry.
But the problem was bookmakers come under the same classification as banks and estate agents, thereby the council had "no meaningful powers" over their numbers, she said.
Ms Davis said: "When I walk through my area within 10 minutes I pass eight bookmakers and that means they are more common than post offices or corner shops. We know they are clustering in poorer areas.
"Once you get a number of bookmakers clustering in the area it's very difficult for other businesses to come in because they feel that area has been blighted by bookmakers."
'Poor areas targeted'
The ABB said councils have raised the issue before, but since 2005, the number of shops in Southwark fell from 82 to 75, in Hackney from 70 to 65, but in Haringey it rose from 59 to 63.
It added: "There are more betting shops on some high streets in London boroughs than there used to be.
"We make a significant economic contribution across London, especially in areas where town centre vacancy rates are high. We offer twice the number of jobs to young people without formal qualifications.
"In the borough of Southwark, for example, we employ 300 people."
A spokesman for Gambling Reform and Society Perception (Grasp) said: "In Haringey there is a clear targeting of betting shops in the poorer areas of the borough and those with a known demographic which is more likely to gamble.
"Similarly, Hackney has 64 betting shops where again a mapping of the location of these shops reveals they cluster in the poorer areas of the borough."
Labour MPs - Harriet Harman, for Camberwell and Peckham, and David Lammy MP for Tottenham - and Conservative councillor David Parsons, head of the Local Government Association's Environment and Housing board, have also backed the campaign.