St Paul's protest: Order to evict Occupy camp 'draconian'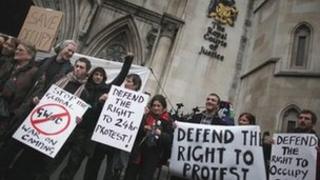 Legal action by the City of London Corporation to evict a protest camp at St Paul's Cathedral was "draconian", the Court of Appeal has heard.
Protesters from the Occupy London group are seeking permission to challenge the High Court's decision to grant orders of possession and injunctions.
Mr Justice Lindblom had said the City's action was "lawful and justified".
But lawyers for the protesters said the City's action was "more extreme and more draconian than was necessary".
Occupy London group, which has been campaigning against corporate greed, set up the camp outside the cathedral, their first in the capital, on 15 October.
The local authority sought a possession order from the court after the group ignored an order to clear its tents from the public highway.
Speaking for the protesters, John Cooper QC, told the court: "The crux is that the steps taken in the court below were more extreme and more draconian than was necessary."
The barrister said Mr Justice Lindblom conducted a "perfectly fair" hearing, but the judge could have opted for less "intrusive" steps which interfered with the protesters' rights to freedom of expression and freedom of assembly.
He added: "In the context of the fair hearing, the judge simply accepted what the City wanted and rubber-stamped it.
"We submit this should not have been a rubber-stamping exercise, but a rigorous consideration of the alternatives."
'Magnet' for crime
Mr Cooper added that the encampment was integral to the protest and the tents were not intended to be indefinite.
In the High Court the corporation said it did not seek to prevent lawful and peaceful protest, but argued that a campsite on the public highway was not justified.
The local authority also said the protest camp had acted as a "magnet" for disorder and crime in the area, and it had an impact on worshippers' rights, affected trade and caused waste and hygiene problems.
Occupy London had denied all the corporation's claims.
The five protesters in the Court of Appeal action are Tammy Semede, George Barda, Daniel Ashman, Stephen Moore and Paul Randle-Joliffe.
Three judges headed by the Master of the Rolls, Lord Neuberger, are considering applications for permission to appeal.
The local authority has said it will not enforce any court orders until the appeal case is resolved.
The Appeal judges have reserved their decision in the case until 22 February.