London bus robberies 'up by 18%' says Labour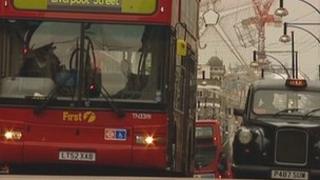 Robberies on London's buses have increased by 18% over a comparable seven month period.
Transport for London (TfL) figures collated by the Labour group on the London Assembly showed robberies had increased from 1,753 to about 2,000.
The group compared figures from April to December 2009-10 with the same seven month period in 2010-11.
TfL said overall transport crime had dropped 33% in the last four years and that it was cracking down on robberies.
Deputy mayor for policing Kit Malthouse said the numbers were so low that any small rise could distort them.
"We've got crime so low on the transport network that any slight movement results in a huge percentage," he added.
For example in Bexley, robberies have gone up from 11 to 32 in the same seven month period - a rise of 191%.
Mr Malthouse said crime fluctuations happen month-by-month which could have an impact on percentage figures.
Violent offences
TfL said in the same time period, criminal damage fell 13%, drugs offences decreased by 14% and violent offences fell by 13%.
Labour have collated these figures as TfL releases each month crime statistics for each borough but only put them all together at the end of the financial year.
The party's Joanne McCartney said the rise in robberies means police officer numbers should not be cut.
She claimed there was such pressure on police officer numbers at the moment that borough police commanders could not move officers into the transport network.
London mayor Boris Johnson announced last year there would be 414 extra officers for safer transport teams, 222 of which were in place while the remaining 192 will be ready by the end of March.
Overall, there is about 2,500 police officers who patrol the transport network across London.