Blue rings on London landmarks suggest 3012 sea levels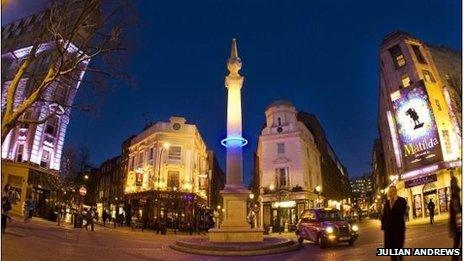 A series of London landmarks have been illuminated with blue rings inviting visitors look forward 1,000 years.
Michael Pinsky's artwork, called Plunge, resembles rings of blue fire, representing a worst-case scenario prediction of the sea level in 3012.
Lit-up spots include at Paternoster Square by St Paul's Cathedral and Duke of York's column by St James's Park.
The rings erected 28m (91.9ft) above sea level show an extreme case scenario of the impact of global warming.
Many scientific studies predict sea levels will rise to a level far lower than this.
Pinsky said: "As a child, I grew up near a reservoir in Scotland.
"On particularly hot summers, when water was in short supply, the level of the reservoir would drop revealing the spire of a church, the highest point of a village which was submerged for a secure clean water supply.
"This image of a submerged bell tower has stayed with me ever since.
"If we do not prevent the predicted effects of climate change from occurring this will become the prevailing image of London, towers and monuments encircled by an ever-expanding Thames."
The installations, presented by Artsadmin and LIFT, were set up on 7 February and will be up until 4 March.
Related Internet Links
The BBC is not responsible for the content of external sites.