London cycle hire scheme expansion date set for 8 March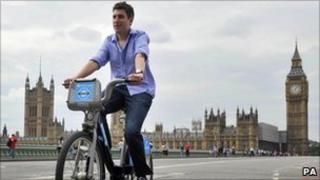 The date for the extension of London's cycle hire scheme eastward has been confirmed.
Transport for London (TfL) said that from 8 March the bikes would be available across the whole of Tower Hamlets, including Bethnal Green, Bow, Canary Wharf, Mile End and Poplar.
Extra bikes will also be available in other areas, including Hackney, Camden Town, Canary Wharf and White City.
The Green Party's mayoral candidate called it an Olympics "gesture".
'London moving east'
The extension will mean 2,300 more bikes and 4,800 extra docking points, said TfL.
It added that over 7.7 million journeys have been made since the scheme began in July 2010.
Shahed Ali, cabinet member for the environment at Tower Hamlets Council, said: "With the increasing development of the City fringe, Canary Wharf and the Olympic Park, the heart of London is moving east and it was important this scheme expanded in Tower Hamlets and beyond."
Mayor of London Boris Johnson said: "The expansions east and west will extend the benefits across our city and I'm confident that our investment in this wonderful piece of transport infrastructure will be a huge success."
But Jenny Jones, the Green Party's mayoral candidate, said while she was supportive of the scheme she felt the eastward expansion was a "gesture towards the Olympics".
She said people would still not be able to cycle the hire bikes into the Olympic Park because Barclays "is not a tier-one sponsor of the Olympics".
Liberal Democrat mayoral candidate Brian Paddick said he wanted the hire scheme to work for all Londoners, not a small minority.
He pointed to a recent TfL survey which suggested an increasing number of bike hire members were unhappy with the scheme.
Barclays, which has provided £50m of funding, will sponsor the scheme until 2018.