London 2012: 'Lack of energy saving plan' criticised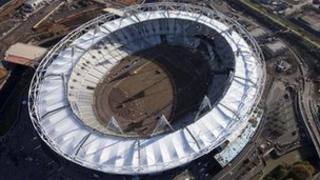 London 2012 organisers still do not have an energy-saving strategy despite a pledge to make it one of the greenest Olympics, a watchdog has said.
It missed its target to source 20% of energy from renewables and now a bid to cut CO2 emissions through energy conservation instead may not be met.
The Commission for a Sustainable London (CSL) 2012 said these issues needed to be addressed urgently.
London 2012 believes its efficiencies will make the required carbon savings.
Shaun McCarthy, CSL chairman, said: "We have known since early 2011 that Locog [the London 2012 organisers] will not be able to meet its original target of 20% electricity from renewable sources.
"The new target is to save the equivalent amount of carbon by reducing overall energy demand, but Locog does not currently have a comprehensive energy conservation strategy in place to demonstrate how they will achieve this."
The CSL said it had not been able to verify London 2012's assurances that Games' suppliers and commercial partners are acting in line with the official code for the use of the man-made greenhouse gas HFC in cooling and refrigeration.
The CSL is concerned that as Locog cannot provide assurance for this, there may be equivalent issues in other areas such as for timber and PVC.
A spokesman for Locog said: "Now we are in the final phase of our operational planning, we are focussing on making efficiencies which we believe will result in the required carbon savings.
"All our heating, ventilation and cooling equipment is from the rental market and the industry currently has no commercially available alternatives to HFCs at the current time.
"We will continue to work with all our partners to ensure that sustainability remains central to our plans."