Boris Johnson given '£90m election bung', says Labour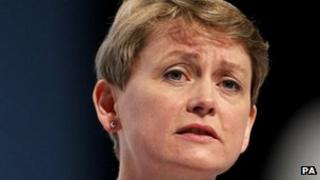 Labour has accused the government of giving London mayor Boris Johnson a £90m "bung" to help get him re-elected.
The Metropolitan Police is to get the money partly to cover the cost of dealing with the Olympics and the Diamond Jubilee this summer.
Shadow Home Secretary Yvette Cooper told the House of Commons other forces were facing cuts of up to 20%.
Police minister Nick Herbert said it was a coalition government and that both parties would field candidates.
Ms Cooper made the comments during a debate on plans which she said would see the loss of 16,000 police officers across England and Wales.
She said: "Force after force is seeing big cuts next year except in London.
"So three months before the mayoral election, and three weeks after the polls show Boris Johnson falling behind, the government suddenly decides to reopen the budget for London... suddenly decides to come up with a pre-election £90m bung.
"The London Mayor has spent years cutting the Met, cutting the number of officers in London and suddenly the Conservative Party have panicked and are trying to bail him out."
'Blond wig'
During the debate, Mr Herbert said numbers were not the only factor in improving front line policing.
He then asked Ms Cooper: "Can you tell me clearly whether or not you support the increase in funding for the Metropolitan Police this year, yes or no?"
In reply, Ms Cooper said Labour did support extra funding for Scotland Yard, but also for all the other forces in England and Wales.
She continued: "You have to wonder, what do the chief constables in other parts of the country have to do in order to get a break?
"Put on a blond wig, jump on a bike, and become a struggling Tory candidate in order to get the money they need?
"The truth is, the home secretary should be concerned about public safety rather than just the safety of Boris Johnson."
Mr Herbert had earlier told MPs the changes to the police grant were necessary and good reforms as savings of £2bn a year were needed.
The government won the vote on the 2012/13 Police Grant by 298 votes to 228, a majority of 70.