Mother saw shot Thusha Kamaleswaran 'collapse'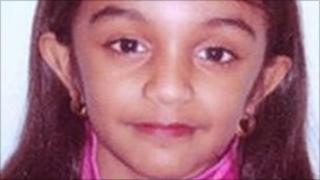 The mother of a girl who was shot in a London shop saw the five-year-old collapse "as though her legs were going to give up on her", a court has heard.
In a statement read to the Old Bailey, Sharmila Kamaleswaran told how the family reacted after Thusha was shot.
She said she ran into the shop as her daughter looked as if she was "going to faint" after the incident in Stockwell.
Kazeem Kolawole, 19, Anthony McCalla, 19, and Nathaniel Grant, 21, deny grievous bodily harm with intent.
A shopper, Roshan Selvakumar, 35, was also shot during the incident at Stockwell Food and Wine shop in south London on 29 March, 2011.
Thusha was hit by gunfire as she was playing in her uncle's shop.
'Grab her'
Mrs Kamaleswaran was in a room at the back of the shop chatting to relatives when she heard the sound of breaking bottles.
Her three children ran into the shop and she followed, the court was told.
She said: "In order to protect my children I also ran into the shop.
"There I saw Thusha was about to fall down as though her legs were going to give up on her, though I was able to grab her and stop her from falling."
Mrs Kamaleswaran said Thusha's uncle took her into a back room after Thusha asked to be picked up and was finding it difficult to breathe.
Once her clothing was loosened, the family realised she had been shot.
Earlier, the court heard that the shooting was the result of a feud between two men.
'Retracing steps'
Eye witness Thomas Watson said he saw a man run into the shop being chased by three men, one of whom had a silver pistol.
He told the jury: "At that point I'd slowed down. I think he was quite close, about 10 to 15 metres (33ft-50ft) away, and it gets a little hazy.
"I think I heard some shots, at the same time I started turning around and started retracing my steps."
He said after the shots were fired - which sounded "like a firecracker going off" - he saw a man in a blue hooded top coming out of the shop holding one side of his abdomen.
He told the court that a second man then said: "I hope that was a gun."
Mr Watson said: "He seemed almost excited at the prospect that that was what had happened.
"I saw a man being chased and then they followed him.
"The impression I had was that there was perhaps a feud going on between these two sets of people and it had just reached an escalation."
'On a mission'
Michelle Nelson, prosecuting, read statements from eyewitnesses who saw the masked attackers moments before the shooting.
Jane Elliott said the men seemed "focused", while Frederica Notley's statement said: "The three males looked like they were on a mission."
Mr Grant, of Camberwell New Road, Camberwell; Mr Kolawole, of Black Prince Road, Lambeth; and Mr McCalla, of Oakdale Road, Streatham also deny the attempted murder of Roshaun Bryan, who the prosecution says was the intended victim.
They also deny possession of a firearm with intent.
The trial continues.