Prisoners say gangs are a problem at HMP Isis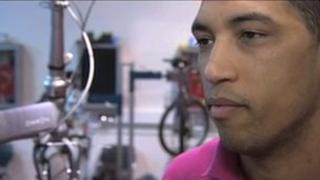 Offenders at a prison for those aged between 18 and 24 years old in London have said some people turn to gangs inside jail because they do not feel safe.
It comes as the Metropolitan Police arrested more than 200 people on Wednesday, as it launched a major offensive to tackle gang violence.
Chris Theodule from Hackney, who is serving time at HMP Isis for dealing class A drugs, said there was a problem with gangs inside the prison.
"When people come to prison by themselves, I think joining a gang makes their life comfortable, because of security," he said.
"Certain people don't feel safe and I think that prison staff don't help them to feel safe."
"People who can't defend themselves are going to join a gang, in or outside, so if you've got a gang on the outside and the same people are on the inside, you're going to join that gang automatically," he added.
Prisoners joined gangs to protect themselves from attacks which were often carried out through jealousy, such as if someone had money sent in so they could buy things from the canteen or had things brought in from the outside, he said.
'Woman beater'
Wole Osinlaru, a former gang member who is serving an indeterminate sentence at HMP Isis for armed robbery, said a lack of positive role models was why young people became gang members.
The 23-year-old from Highbury, north London, said: "There's a lot of easily led kids out there who don't have the support they need so they look for it outside and they're not getting the right positive role models."
He said children were having to look up to a "drug dealer... woman beater... or a man who gets a kick out of beating people up".
"Gangs can be eradicated, just by giving kids who never had a chance a chance."
He said he had learnt skills to prepare him for when he was released which he was confident would enable him to not return back to a gang.
'Identify conflict'
The prison's governor, Grahame Hawkins, admitted gangs were a problem in the prison.
"Yes we have people here who are members of gangs and we work really hard to identify them," he said.
"If you're in conflict with someone who goes to prison, that conflict doesn't go away just because you've both picked up a criminal conviction. We work very hard to identify conflict within the system."
He said he did not think new formations of gangs were forming in the prison, however it was possible that new allegiances were formed.
Mr Hawkins added that prison staff were working with Scotland Yard so that any gang initiative had a positive effect on how people were managed in custody.
He said the prison was trying to tackle the problem of gangs by educating prisoners and giving them vocational skills, which would have the effect of reducing crime in London.
The prison was also working with the Department of Work and Pensions and job centres to help them find work when they were released.
"People in prisons work exceptionally hard to help people to grow and learn and develop," he said.
"That has to be our aim and ambition to help people lead law abiding lives on release, otherwise we would have failed. We have to keep doing that."