Heathrow Express union members to strike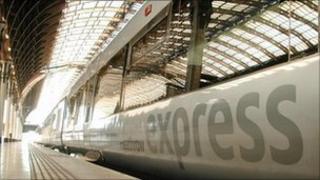 Workers on the Heathrow Express have voted for strike action after a driver was sacked and a union representative suspended.
The Rail Maritime and Transport Union (RMT) said four out of five of its members backed a campaign of stoppages.
No dates have been set for a walk out on the service, which runs between Paddington and Heathrow airport.
The company said the suspended employee had returned to work and the driver had been dismissed fairly.
The RMT said its representative, Liaqat Ali, had been subjected to a "barrage of unfounded, spurious and discriminatory allegations by management".
'See sense'
The union also claimed Zahid Majid was dismissed from employment by Heathrow Express after a minor error, which he took full responsibility for, and which has led to the company taking unfair and disproportionate action in sacking him.
RMT general secretary Bob Crow said: "RMT has informed Heathrow Express that the union remains available for talks in the hope management will now see sense and take the necessary steps to resolve this dispute."
A spokeswoman for Heathrow Express added it hoped union members would recognise the employee had been dismissed fairly in accordance to union policy.
"As always, we remain open for discussions with the RMT," added the spokeswoman.