London cycle junctions safety review announced by TfL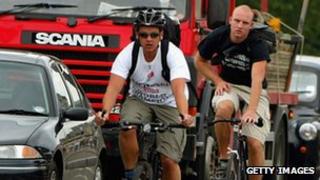 The first of 500 junctions to be reviewed under moves to improve cycle safety have been announced by Transport for London (TfL).
The 14 junctions that are among those "proposed as priorities" include Highbury Corner, in north London.
TfL said it "aims to deliver some improvements before the start of the Olympic Games" in July.
But a cycle blogger said: "First drafts of some of the changes are already public and aren't very encouraging."
'Particular challenges '
A review of all junctions on London's cycle superhighways was ordered following the deaths of two cyclists at Bow Roundabout in November.
Work will begin on a new design for a roundabout in Bow, east London, in April, TfL said.
The mayor is also reviewing Cycle Superhighway junctions where there are "particular challenges for cyclists".
Cycle blogger Danny Williams, from Stockwell in south London, who campaigns for cycle safety, said: "TfL needs to realise that we are all traffic.
At the moment, too many of our junctions are designed to maximise only the number of motor vehicles you can safely fit through them - cyclists and pedestrian traffic have to sort of squeeze in around the edges, which is bad for everyone."
But he added: "Some of the announcement is genuine good news.
"For example, the south side of Lambeth Bridge is positively lethal for people on bikes."
"It' s very encouraging the mayor is looking at this."
London Mayor Boris Johnson said: "We are seeing a step-change in both the way that people choose to travel, but also in the way that cyclists are viewed on our streets.
"That is why I firmly believe that we must now start to evolve the means by which we plan and manage our extensive network of roads, and why I have asked TfL to review hundreds of key junctions across the capital to specifically examine safety and provision for cyclists."