Scrap dealer pays for plaques stolen from Carshalton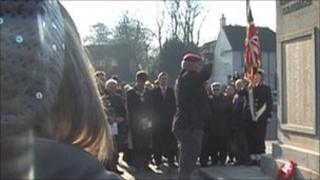 A scrap metal dealer has donated £21,000 to replace metal plaques stolen from a war memorial in south London.
Fourteen bronze plaques bearing the names of 243 World War I servicemen were stolen from Carshalton war memorial in Sutton in September 2011.
Stuart Nebbett, 45, of Guildford, Surrey, who runs a scrapyard in Merton, said he was as "outraged as everyone else" that it had been "plundered".
The new plaques, which were made from Portland stone, were unveiled earlier.
Relatives of some of the servicemen honoured in the memorial and Mr Nebbett were present at an unveiling ceremony for the stone plaques.
The war memorial in Carshalton was originally unveiled in 1921 and is a smaller-scale version of the Cenotaph in Whitehall.
Thieves targeted the memorial weeks before Armistice Day.
Sutton Council said it had commissioned stone tablets to replace the original plaques to prevent the memorial being targeted again.
'Huge pressure'
Mr Nebbett said: "I wanted to make this gift to the community to make it clear that we run a professional operation, which had nothing to do with this theft, and that I was as outraged as everyone else that the local war memorial should have been plundered in this way.
"We may not wear business suits to work, or work from a smart business unit, but that doesn't mean that we take advantage of any opportunities to accept and process any scrap metal to run our business."
Mr Nebbett is backing a campaign by Sutton police and the council calling for ID checks, a cashless payment system and a crack down on unlicensed scrap metal yards.
Lord Tope, the council's executive member for community safety, leisure and libraries, said: "We were determined to replace the plaques which were stolen but it would have placed huge pressure on our already tight budget, so we are very grateful to Mr Nebbett's generous donation."