Thusha Kamaleswaran paralysed in Stockwell shop shooting, jury told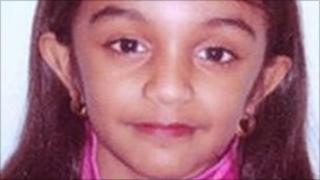 A five-year-old girl was playing in a shop when she was shot and left paralysed, a jury has heard.
Thusha Kamaleswaran was one of two innocent people shot at the store in Stockwell, south London, in March 2011, the Old Bailey was told.
The jury heard how three men went to the shop on bikes looking for a rival gang member and one opened fire.
Kazeem Kolawole, 19, Anthony McCalla, 19, and Nathaniel Grant, 21, deny grievous bodily harm with intent.
Opening the prosecution case, Edward Brown QC said Thusha was playing with her two siblings just before the shooting, and was "remarkably lucky" to survive.
Bullet in head
He said a bullet had passed through Thusha's body and an emergency team had to carry out "invasive surgery" at the scene to restart her heart.
She went into cardiac arrest for a second time in hospital but was again saved by emergency surgery.
But her injuries caused paralysis and she will never walk again, the jury heard.
Roshan Selvakumar, 35, who lived in a flat above the store, was also hit during the shooting and has bullet fragments permanently lodged in his head, the jury heard.
Mr Brown said the gun was fired at least twice, and the gunman, alleged to be Mr Grant, would have been able to see Thusha when he fired the second shot, the court heard.
Mr Brown told the jury the shooting bore "all the hallmarks" of gang rivalry; animosity that "on occasion leads to needless but very serious violence".
'Test shooting'
He added: "The reality of this shooting may be that, whilst there was an intention to kill the suspected rival gang member, the gunman and his accomplices couldn't have cared less if someone else was shot too."
It is claimed that a test shooting was carried out around 40 minutes before the attack to make sure the gun was working.
The jury was also shown a number of short CCTV clips showing three men that it is claimed are the defendants in the lead-up to the shooting.
Mr Grant, of Camberwell New Road, Camberwell, Mr Kolawole, of Black Prince Road, Lambeth, and Mr McCalla, of Oakdale Road, Streatham, are accused of acting together in staging the attack.
They also face charges of the attempted murder of another man, Roshaun Bryan, whom the prosecution say was the intended victim that day, and possession of a firearm with intent to endanger life.
The trial was adjourned until Tuesday.