London 2012: Government workers test remote working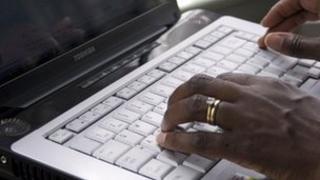 Thousands of British civil servants are working from home this week as the government tests its plans to ease congestion during the Olympics.
The Tube network will see significantly more passengers during the Games.
A Department for Transport (DfT) spokesman said the government wanted to deliver "a great 2012 Olympic Games and keep London moving".
But workers have been warned they could struggle to work from home if they have slow internet connections.
With many sports fans predicted to follow the Games online, workers in areas of high usage could experience problems.
A document issued by the London Organising Committee of the Olympic Games and Paralympic Games (Locog) said: "It is possible that internet services may be slower during the Games or in very severe cases there may be drop outs due to an increased number of people accessing the internet."
It added that Internet Service Providers (ISPs) "may introduce data caps during peak times to try and spread the loading and give a more equal service to their entire customer base".
The DfT spokesman added: "We are currently encouraging businesses and commuters to plan ahead and consider their travel options."
"This is about encouraging staff to reduce the impact of their travel by either walking or cycling, changing their route of travel to and from work, re-timing their working day to avoid the busiest periods or working from home."