Heathrow Airport flights back to normal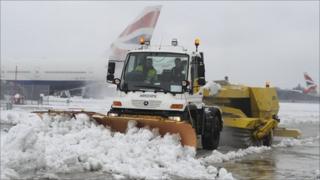 Heathrow Airport operator BAA said services had returned to normal after hundreds of flights were cancelled on Sunday because of snow.
Forty flights were cancelled on Monday morning, which BAA attributed to a freezing fog, poor visibility and the knock-on effect of the disruptions.
Passengers criticised BAA for operating some 500 fewer flights after up to 10cm (4in) of snow fell on Saturday night.
There is no disruption on the Tube or on major roads into London.
Only 753 flights operated out of the west London airport on Sunday, 58% of its usual capacity of 1,300 flights. BAA said its snow plan had "worked far better than in previous years".
BA diverted several flights to destinations such as Glasgow and Cardiff, while 400 passengers on a transatlantic flight were stranded at Shannon.
'Nightmare journey'
Most of the diverted flights were expected to arrive in London through the day and BAA has advised passengers to check with their airlines.
Earlier a BAA spokeswoman said: "There may be some cancellations and reshuffling as a result of yesterday's [Sunday] disruption."
On Sunday, Transport Secretary Justine Greening defended BAA saying it had taken the "right approach".
Staff were available at Heathrow to help travellers rebook their flights and find hotels.
However some passengers spent the night at the airport and several criticised the decision to cancel flights on Sunday.
Firs Alam, whose flight to Tokyo was grounded, said he was having a "disgusting time" and was incurring costs due to the cancellation.
"I am missing my parents and my family members.
"They [airport staff] have offered vouchers but I won't get them."
Kerry Burgess-Boyde, whose flight from Los Angeles was diverted to Barcelona on Sunday, told the BBC: "He [the pilot] came on and said there had been chaos at Heathrow and all the parking spaces in England had been filled up.
"So he said we are going to go to Barcelona because it seems to be like a nice place to go to."
Margaret Corrie, from Glasgow, said: "It took us three hours to get to the airport from London - it's been a nightmare journey."
Meg Turner, from Muswell Hill, said her husband's plane for Singapore had been on the runway for five hours on Saturday night, before the flight was cancelled and he returned home.
The airport almost ground to a halt for days in December 2010 due to heavy snowfall.
The subsequent criticism led it to spend almost £30m to prepare for wintry conditions.