Brent library closures: Supreme Court rejects appeal bid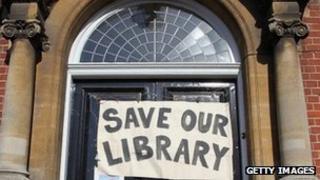 The Supreme Court has refused to allow campaigners fighting to save six north-west London libraries permission to appeal against a court's decision.
Campaigners are trying to prevent Brent Council from closing half its libraries.
In December, the Court of Appeal upheld the High Court's ruling which rejected campaigners' claims the council's decision was "flawed and unlawful".
The Supreme Court said there was no "arguable point of law" for an appeal.
Campaign group Brent Libraries SOS is fighting to save libraries in Kensal Rise, Barham Park, Preston Road, Neasden, Cricklewood and Tokyngton.
Public inquiry
Samantha Warrington, from the group, said: "The legal challenge of Brent's decision was only ever one course of action we Brent SOS Libraries was pursuing.
"We remain of the view that the secretary of state for culture, media and sport should hold a public inquiry into Brent's failure to provide a comprehensive and efficient library service for those living, working and studying in the borough.
"We have submitted petitions with more than 12,000 signatures against the closures."
Brent Council, which announced its plans to shut the libraries in April 2011, said the closures would help to fund improvements to its remaining library service and help it achieve £104m in savings.
Councillor Ann John, leader of Brent Council, said: "This final decision of the Supreme Court fully vindicates Brent Council's actions and upholds the earlier decisions of both the Court of Appeal and the High Court that the council acted lawfully.
"We can now put the past behind us and focus our attentions fully on improving and developing a better library service for the people of Brent."
The case was being seen as a test case for other campaigners across the UK fighting to keep 400 libraries open.