London riots: Met police training more officers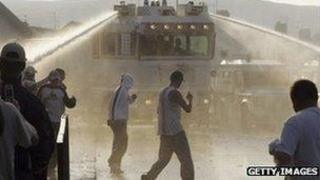 The Metropolitan Police are training more officers in order to deal with any repeat of last summer's riots, London's chief police officer has said.
Met Commissioner Bernard Hogan-Howe said the force would also make sure more vehicles were available if needed.
He told the London Assembly there were "not enough" police when rioting broke out in Tottenham on 6 August.
Mr Hogan-Howe said: "We've got significantly more police officers to deploy, we've tested that."
He told the assembly's police and crime committee: "On the Saturday night we've accepted from the beginning that we didn't have enough police available to deal with Tottenham High Road.
"We are finalising the numbers of people who we think need to be specialist trained in terms of public order."
'Front foot' policing
He warned that the numbers available to work in the boroughs would fall while they were being riot-trained, though it would not have too serious an impact.
He added: "Unless we train them, they are not ready."
He said that officers needed to adopt different tactics when dealing with rioters, adding: "We need to be more on the front foot, using vehicles, going forward, not standing in a line."
But he said that the possibility of using water cannon and baton rounds would be a "political decision" and not "something the police should impose".