West London Exhibition Road re-opens as 'shared-space'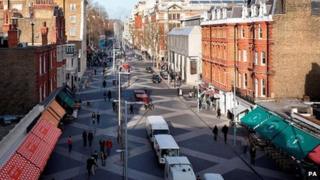 After three years of construction work, one of west London's most famous streets has been officially re-opened.
Following a £30m redevelopment, the new-look Exhibition Road is described as "shared-space", featuring a kerb-free single surface with no barriers.
However, Guide Dogs for the Blind has described the road as "a real problem" for blind and partially sighted people.
The Tory-run Kensington and Chelsea council defended the scheme as being "much more accessible".
Up to 12 million people use Exhibition Road each year as they visit the nearby museums.
Under the scheme, visual and tactile lines distinguish pedestrian areas from those used by vehicles, while cars are slowed by a 20mph speed limit.
The road runs from Hyde Park to South Kensington Tube Station.
Guide Dogs for the Blind head of campaigns David Cowdrey said: "The problem that does come about is, how do you cross the road from one safe zone to another?
"There are pedestrians at the top and bottom but there is nothing in the middle. That is a real problem if you don't have the confidence to step out into moving traffic.
Kensington and Chelsea deputy leader Nick Paget-Brown said: "You can cross at any point from the top to the bottom - between the traffic or when there's no traffic.
"We believe now the road is very much more accessible to the huge amount of people who come to the Exhibition Road every year."
"It's important to have a safe, attractive pedestrian environment and I believe we've created that."
The Royal Borough of Kensington and Chelsea contributed £14.6m towards the costs, Transport for London a further £13.4m and the City of Westminster put in £1m.