Greater London Authority's share of council tax cut by 1%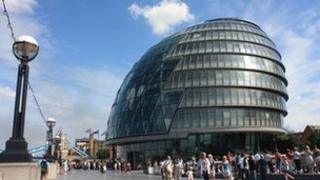 The Greater London Authority's (GLA) share of council tax receipts will be cut, Mayor Boris Johnson said.
The 1% cut will cut council tax on an average Band D property by £3.10 a year if the budget for 2012-13 is approved.
It would give the GLA an average £306, with £233 for the police, £43 to the fire brigade, £20 to the Olympics and £10 to transport and other services.
Ken Livingstone, Labour mayoral candidate, said the cut "would hardly pay for a single tube journey".
If passed, the cut to the will come into effect in April, ahead of the mayoral election in May.
'Cut living costs'
Mr Johnson said: "Thanks to the sensible savings we have achieved over the last three years we can deliver on all our priorities and hand some money back to Londoners.
"I am proud to have ended eight years of relentless rises in council tax, freezing the precept for the last three years and now take this small step towards easing the burden further."
Mr Livingstone said: "This is just £3.10 a year, whereas I will save Londoners on average £1,000 over four years by cutting the fares on 7 October 2012.
"I believe in tough times Londoners need a mayor who will cut the cost of living.
"Boris Johnson's announcement today would hardly pay for a single Tube journey."
'Gesture politics'
Liberal Democrat candidate Brian Paddick said: "In a fully costed proposal we believe it's possible to reduce council tax by 3%.
"Whilst any reduction in council tax is welcome I'm not going to spend too long working out how I would spend my extra £3.10 a year."
Jenny Jones, Green Party mayoral candidate, said: "This is gesture politics".
"Households will save 6p a week in council tax, compared to the extra £2.50 a week that a typical household are paying this year in higher fares.
"Even this small council tax cut will get in the way of the mayor meeting his targets."
The proposed £14.4bn budget will be considered by the London Assembly on 9 February.