Met commander Ali Dizaei 'threatened' by web designer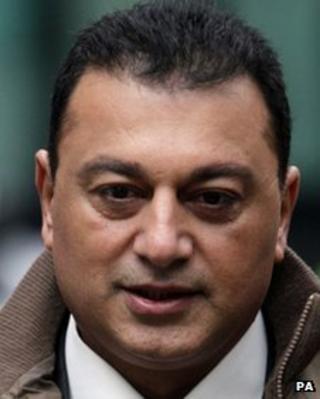 A Scotland Yard commander accused of trying to frame a web designer has told a court the man abused and threatened him.
Ali Dizaei is facing a retrial at Southwark Crown Court accused of misconduct in a public office and perverting the course of justice.
Mr Dizaei said Waad al-Baghdadi, who had designed a website for him, swore at him through an open car window and "frightened" his wife.
Mr Dizaei denies all the charges.
The court heard the row in July 2008 followed a dispute between the pair about the contents of the website, which had gone live without Mr Dizaei's agreement.
Mr Dizaei said it contained spelling mistakes, out of date information, a Metropolitan Police logo that had not been authorised for use and a wedding picture which he had asked to be removed.
He was also unhappy that his personal email address had been publicised on the site.
He told the court: "I get a lot of hate mail."
'Torrent of abuse'
The jury heard that after Mr Dizaei told Mr al-Baghdadi he "wasn't interested" in him working on the website anymore Mr al-Baghdadi sent him "unpleasant" messages, to which he did not respond.
Their next encounter came outside a Persian restaurant in west London, as Mr Dizaei and his wife were preparing to drive away after a meal.
Mr Dizaei said they were talking to the restaurant owner when the web designer "suddenly interrupted" their conversation.
Mr Dizaei said: "He came very close to the passenger window and said loudly 'Why aren't you answering my phone calls?'"
The policeman said Mr al-Baghdadi began to swear and became more aggressive with his face "inches away" from Mrs Dizaei.
He said: "My wife got caught in the crossfire. I'd call it a torrent of abuse."
Mr Dizaei said he warned Mr al-Baghdadi that if he did not stop he would get into trouble. He denied suggesting that he and the web designer fight it out round the corner, saying he was trying not to "inflame" the situation.
Mr Dizaei said Mr al-Baghdadi continued to threaten him, using a Farsi expression, which translated as "I'm going to get the money out of your throat".
Shisha pipe
The jury has been told that Mr al-Baghdadi claimed he was owed £600 for his work on the website.
Mr Dizaei told the court he decided to arrest Mr al-Baghdadi after he had been called a "pimp" by him.
He said the web designer pushed him with the palm of his hand and he nearly lost his balance.
The court heard that Mr al-Baghdadi was alleged to have struck Mr Dizaei was the mouthpiece of a shisha pipe.
Mr Dizaei said Mr al-Baghdadi then attempted to assault him again when he had him in handcuffs.
He denied allegations that he had used excessive force against Mr al-Baghdadi or that he had warned him that he would ruin his life.
Mr Dizaei said: "Mr Baghdadi is a dishonest liar."
The case continues.