London 2012: Tube workers reject £500 Olympics bonus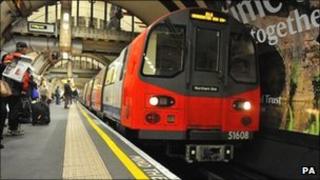 The RMT has rejected a £500 bonus for Tube workers on shift during the Olympics.
The union, which represents thousands of Tube staff, said the money was not an adequate reward for being on duty during the event.
London Underground (LU) director George McInulty said discussions would continue on the issue.
The Tube network will see a significant increase in passengers during the Games.
The union has pointed to other deals, including one of £1,100 for Docklands Light Railway workers.
'Colossal' challenge
RMT general secretary Bob Crow said: "It is well-documented that transport will be the biggest logistical challenge throughout the Olympics period.
"All we are calling for is a fair deal for all the staff involved in delivering the colossal transport challenge that we will be facing this summer and the negotiations to achieve that are ongoing."
MrMcInulty said: "This summer LU staff will be asked to work flexibly, and we are determined to properly acknowledge the contribution they will be making to a fantastic Olympics and Paralympics Games while keeping London moving.
"We have put forward our proposals about how our staff could be fairly rewarded based, as usual, on feedback from our customers and on the flexibility that staff show in working different shift patterns."