Men arrested in Occupy London UBS bank eviction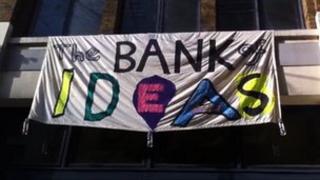 Two men have been arrested following the eviction of 50 Occupy London protesters from an east London office.
Police said a 45-year-old was arrested regarding an alleged assault and criminal damage.
A second man who was held, has been released following an operation to remove people from the building, owned by UBS bank, near Liverpool Street.
The building had been renamed the "Bank of Ideas" by the group which campaigns for what it calls economic justice.
Swiss investment bank UBS was granted a possession order for the Sun Street property last week.
A UBS spokeswoman said: ''We are pleased that this matter has now been resolved."
When Occupy London Stock Exchange protesters moved into the building, which is in Hackney, on the border of the City of London, they described it as "public repossession".
Members of the group have been camped at St Paul's Churchyard, and at Finsbury Square, in the borough of Islington, for months.
On Friday night the Occupy movement briefly entered a site in Leadenhall Street, in the City, which they said belonged to Rafidain Bank.