TfL makes more than £1m a year on pollution fines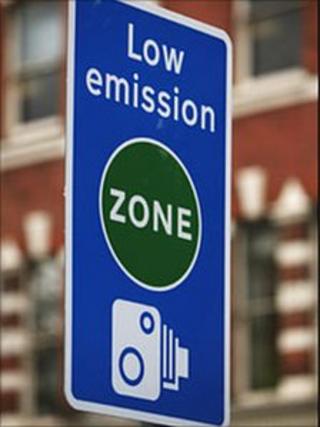 Since 1 January, smaller diesel vans have had to be compliant with the LEZ (Low Emission Zone).
The scheme aims to make the "polluter pay".
So if you have a van over 10 years old you can pay £100 to enter London or you will receive a hefty fine.
Vans join lorries and other diesel vehicles that have had to be compliant for a number of years.
Since January, there has been an "amnesty" and if the owners of the vans which are not compliant drove them into London they received a warning letter and not a fine.
That gives the owner 28 days to make the van compliant or stop driving it in London.
Transport for London (TfL) says it has issued around 11,500 warning letters to owners of non-compliant vehicles so far this year.
The first £500 fines for van drivers will be issued in February. Non-compliant HGVs currently get £1,000 fines.
Thousands of vehicles
Nick Fairholme, director of congestion charging and traffic enforcement, said: "The initial results of TfL's monitoring indicates that the vast majority of the owners of vehicles affected by the changes to the LEZ that came into effect on 3 January have taken action to ensure their vehicles comply with the new emission standards.
"In the first month since the new emission standards came into effect we have seen almost 98% of vans, minibuses and other specialist vehicles, affected by the LEZ for the first time, meeting the new standards.
"Lorries, buses and coaches that were already affected by LEZ, and were required to meet more challenging emission standards, are showing compliance rates of almost 90%."
And if you thought TfL are not chasing the huge fines for polluting vehicles have a look at this - the response to a Freedom Of Information (FOI) request by my colleague Julia Ross.
It shows the number of vehicles owners that have been fined every year. There are thousands. It has raised over £6m since 2008 for TfL in fines.
As the scheme expands to incorporate more vehicles you'd expect those figures to increase.
Have you had problems with the LEZ? Let me know.