Daily Mail editor Paul Dacre 'met Stephen Lawrence'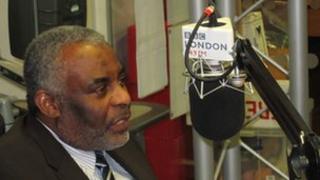 The father of Stephen Lawrence has described how a meeting with the Daily Mail's editor led to the paper becoming a staunch supporter of the family.
Stephen was murdered in a racist attack in Eltham, south-east London, in 1993.
Father Neville Lawrence has said the Daily Mail naming five people as the killers was vital in seeing justice partly done.
The support came after editor Paul Dacre realised he had met Stephen when Mr Lawrence was decorating his house.
Mr Lawrence told BBC London 94.9's Eddie Nestor: "I did a lot of work in Paul Dacre's house.
"I used to see a car picking him up in the mornings, taking him to work, bringing him back in the evenings."
But Mr Lawrence had no idea he was decorating the house of a national newspaper editor.
He said the realisation only came after Mr Lawrence and his wife Doreen met Nelson Mandela in May 1993 after Stephen's death.
"There had been a riot the weekend before and the Daily Mail had this story about the riots...and in the middle of that story there was about Stephen and the fact that we had met [Nelson] Mandela."
When journalists from the paper came to interview Mr Lawrence, he confronted them.
He said: "The first thing I said to them was: 'Why did your editor put my family in the middle of all that violence, we are not about violence'."
He said he was asked to speak to the editor about the issue, leading him to realise his former client headed the newspaper.
Mr Lawrence said: "The following morning I rang the Daily Mail's office to speak to Paul Dacre.
"He said to me: 'Neville, I didn't know it was you'.
"I said: 'But Mr Dacre, you've met my kids. I used to take my children to places where I work'. He had met Stephen and Stuart."
Mr Lawrence added: "Because of that, the Daily Mail has been one of the biggest supporters for us over this story."
'Couldn't sleep'
In February 1997, the newspaper published a headline accusing Gary Dobson, David Norris and three others of Stephen's killing.
The headline read: "Murderers". It continued: "The Mail accuses these men of killing. If we are wrong, let them sue us."
On 3 January this year, Gary Dobson and David Norris were convicted of the murder.
Mr Lawrence said he had heard Mr Dacre was very worried over publishing the front page.
He explained: "I was told he couldn't sleep that night, after they printed the photographs.
"He thought they were going to be sued. But he went out on a limb and did this."
Following the verdict Mr Dacre had spoken about the "monumental risk" he and the paper took.
He said: "In many ways, it was an outrageous, unprecedented step. But I'd like to think that as a result we did a huge amount of good and made a little bit of history that day."
Describing the hours before the paper went to print, Mr Dacre said the mood was "calm" but there was also "a kind of nervous laughter" about the headline.
Mr Dacre said he was "desperately aware of the enormousness" of what was being proposed.
He said: "It's not up to newspapers to accuse people of murder or act as judge and jury.
"That night I took a sleeping pill. Despite it, I woke up at four o'clock in the morning - the time when all the decisions of the previous day suddenly assume terrifying proportions.
"I was drenched in sweat and convinced my career was over."
Mr Lawrence said he thought the front page had helped create the momentum that brought Dobson and Norris to justice.
"At the time that [the front page] was done we knew these boys weren't going to be giving any kind of statement," he said.
"We are thankful for the support over the years."
'I did dance'
But almost two decades on, the teenager's family is still waiting for all involved in the fatal stabbing to be caught and convicted.
"We need concrete evidence and as far as I'm concerned that's going to come from the knife which killed Stephen.
"I'm appealing to anybody who knows where this knife is buried to come forward so we can get these other people who have killed my son."
Mr Lawrence said he still does not like visiting the memorial in Eltham.
"It's too much for me to take in.
"When I go there it just gives me a really bad feeling and I can't face the fact that that's where my son took his last breath."
But the verdict earlier this month has given the family some hope.
Mr Lawrence said he finally danced at a birthday party the weekend after the verdict, years after "a promise I made to myself that I would never dance again until somebody is doing time for the death of my son."
"I did dance. It was like I was back in my old days.
"I felt really good, it was like I had woken up from a dream."
The full interview can be heard on Eddie Nestor's Drivetime on BBC London 94.9 at 17:00 GMT on Friday.