Parking fine 'quotas' in London 'dishonest' - judge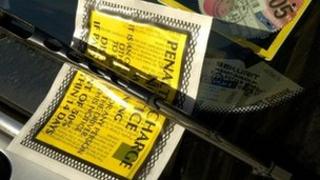 A parking enforcement firm operated a "clandestine quota system" to issue tickets to motorists in a "predatory and dishonest" way, a judge has found.
A ruling seen by BBC London details how NSL, working for Kensington and Chelsea Council, set its wardens a minimum target of 10 tickets a working shift.
It is illegal to set minimum quotas of parking tickets.
NSL denies setting quotas and said it was "extremely disappointed" by the ruling and was considering its options.
The quotas came to light after one traffic warden, Hakim Berkani, lost his job in February 2011 and took NSL to court.
He claimed he was dismissed for highlighting the illegal quota system, along with his union activities.
In a ruling which has just been published following the hearing at the London Central Employment Tribunal, Judge Burns agreed Mr Berkani had been unfairly dismissed.
He wrote: "The claimant took the view that the priority should be given to warning motorists about infringements rather than issuing PCNs [fines].
"The managers however took the view that a minimum number of PCNs should be issued, and ten per shift was frequently mentioned as an absolute minimum.
"We accept the claimant's evidence that the managers clearly wanted more rather than less PCNs to be issued."
The judge cited an email from Emma Collins, a regional manager with NSL, which read: "There are still significant numbers of people issuing at a rate of below 9 per hour... we should not feel uncomfortable to use the disciplinary process."
Judge Burns responded: "We have no doubt the managers felt under pressure to ensure PCN issuing was maximised and they passed this on to CEOs [traffic wardens].
"As a result, CEOs felt under considerable pressure to issue PCNs and some adopted a predatory and dishonest approach to motorists."
'Trumped up' charges
The judge criticised evidence given by NSL employees, writing: "We found the claimant and his two witnesses to be straightforward, clear and consistent.
"We did not feel the same way about the respondent's witnesses, particularly Mr Dunbar and Mr Rowland [senior staff at NSL's branch in Kensington and Chelsea]."
He added that Mr Dunbar and Mr Rowland "saw the claimant as a trouble-maker because he had refused to comply with the clandestine quota system".
Judge Burns continued: "These managers decided to get rid of the claimant and schemed to do so by trumping up various disciplinary charges."
The judge found the "plot" by "conspiring managers" included placing pressure on other wardens to make complaints against Mr Berkani.
He added: "Mr Dunbar subsequently filled out a form in which he alleged (probably dishonestly) that the claimant had raised his voice and sworn."
NSL is the largest employer of parking wardens in the UK, providing on-street parking enforcement for more than 60 councils.
Responding to the finding, Mr Berkani, who lives in Wandsworth, told the BBC: "I am very happy indeed - now I can carry on with normal life.
"It is unbelievable that NSL are still denying having a quota system. What they've been doing is against the law.
"Do you tell a police officer he should arrest a minimum of 10 people a day?"
Mr Berkani was represented by a friend and resident of Kensington and Chelsea, Alasdair Seton-Marsden, who has no legal training.
'Huge victory'
Mr Seton-Marsden said: "It was a huge victory considering the inequality of arms we had.
"I've been trying to stop the unlawful tax-farming from motorists by Kensington and Chelsea.
"I've known for years about the total greed of the council's parking department."
Alastair Cooper, enforcement solutions director at NSL, said: "We are extremely disappointed with this judgement and are considering our options.
"We are an Investor in People - Gold organisation, which means our policies and procedures are recognised as being exemplary.
"NSL categorically deny any suggestion that any of our colleagues are set targets or receive incentives linked to the number of PCNs that are issued."
A Kensington and Chelsea Council spokesman said: "Our objective is to encourage motorists to abide by the parking regulations.
"Given the heavy demand on parking spaces in this borough this remains a constant challenge and PCNs are issued to dissuade motorists from breaking the restrictions.
"The council regularly reviews its contract with NSL to ensure that we maintain a sensible enforcement policy."