London 2012: Olympic closing ceremony hit by Sunday trading laws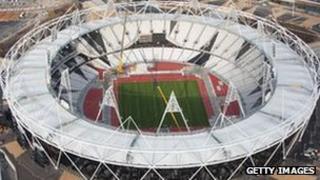 Some spectators may not to be able to buy Olympic merchandise when they attend the closing ceremony of the London 2012 Games, the BBC has learned.
All Olympic venues will have to abide by existing Sunday trading legislation, and close by 6pm.
The closing ceremony on 12 August is one of three Sundays during the Games.
It is understood Culture Secretary Jeremy Hunt found out about the matter only a few weeks ago, and has said it is too late to address this.
A spokesman for Games organisers Locog told the BBC: "We are subject to the law like any other organisation or event and that law states that, subject to certain exceptions, retail outlets larger than 280 sq m (3,014 sq ft) can trade for six hours between 10am and 6pm on a Sunday.
"We are currently discussing the operation of our stores within this legal framework. We will have smaller outlets open on Sundays in and around venues and of course our online shop is open 24 hours a day."
The main megastore on the site is 40,000 sq ft. There will also be two superstores in the Olympic Park which are both 8,000 sq ft.
The superstore in the Athletes Village is 9,000 sq ft. The main non-venue retail outlet is going to be in Hyde Park, and that will be 12,500 sq ft.
All of these stores fall well within the strict rules set out in the 1994 Sunday Trading Act, and would not be allowed the exceed the permitted six hours opening times.
The Retail People - the company responsible for running the commercial outlets at London 2012 - only discovered the problem at the end of last year.
They had been under the impression that the government's Olympic legislation would include an amendment which would have enabled all retail outlets at the Games to remain open beyond normal Sunday trading hours.
There is the potential for millions of pounds of revenue to be lost as a result.
Friday marks six months until the London 2012 opening ceremony.