Health trust denies being 'obscure' over hospital plans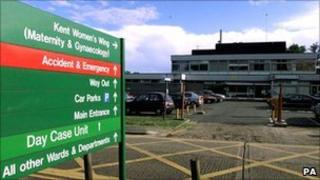 An NHS trust has denied being "deliberately obscure" over its plans for the future of a hospital.
South London Healthcare NHS Trust is planning to turn Queen Mary's Hospital, in Sidcup, into a "wellbeing centre".
It has also considered closing one of its three hospitals as part of "scenario" planning for its application for foundation status.
It has denied planning to close Queen Mary's in south east London but the GMB union claimed this was misleading.
Gavin Davies, a GMB official, said: "The trust is being deliberately obscure with this statement
"There was discussion at the board meeting about moving to two sites, with the loss of up to 700 jobs because of the financial pressures the trust faces.
"For the trust to give the impression that this is only scenario planning is to mislead the public of their real intentions.
"The whole scenario for South London Healthcare Trust will be decided at end of March because of the overspend in the trust finances."
The trust has to make £30m in savings over four years as part of plans to clear its £69m debt. It has an annual income of about £440m.
More than a million people fall into its catchment area and it has about 6,000 employees.
'Alternative approaches'
In a statement, the trust said as part of the requirements for Queen Mary's to become a "health and wellbeing campus" with a specialist surgical centre, diagnostics and outpatients, it had to detail plans to achieve financial viability.
It said the plan for it to gain foundation status was for it to continue running three hospitals; Queen Elizabeth Woolwich, Princess Royal Bromley and Queen Mary's Hospital Sidcup.
"We believe that this is in the best interests of our patients and hospital trust for the future. The Monitor requirement is to also set out a plan of mitigation or alternative approaches if the favoured plan isn't successful in its objectives.
"This is why we have needed to work out a scenario in which our trust is only based on two sites. We don't support this approach nor believe that it is the most workable."
The spokesman added that it was looking at redesigning the services it provides to include an increase in out of hospital care which would mean a smaller hospital workforce.
The trust said it "expects compulsory redundancies to be minimal".