Police Commander Ali Dizaei 'may have faked injury'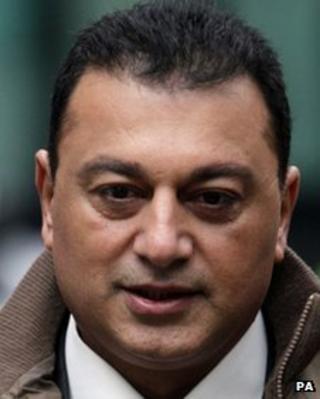 Police commander Ali Dizaei may have faked injuries to make it look as though he had been assaulted, a jury has been told.
Dr Maureen Heath said inflammation on Mr Dizaei's abdomen was "not consistent" with being poked with a shisha pipe, as he claimed.
He is facing retrial at Southwark Crown Court for misconduct in a public office and perverting the course of justice.
Mr Dizaei denies all the charges, which followed a row with a web designer.
Dr Heath said the injuries were more likely to have been self-inflicted.
She said the inflamed areas, measuring 3cm by 3cm and 4cm by 4cm, contained no marks or bruising.
Dr Heath added that they were "exactly in the midline" of the abdomen, one below the other, and did not appear to be "randomly placed".
When she examined Mr Dizaei he twice tried to stretch the skin around one of the "perfect circles" of inflammation, the court heard.
"I took his hands and put them down. He stretched the injury again and I told him 'put your hands down'," she said.
Dr Heath said she had never experienced that "in all my years of being a doctor".
Website row
She told the court: "Attempts by Commander Dizaei to distort one of the injuries so they were not so strikingly similar increases the index of suspicion for a self-inflicted injury."
The prosecution claims that Mr Dizaei tried to frame Waad al-Baghdadi after a row about fees for a website he had designed for the officer.
After the argument, outside a restaurant in west London in July 2008, Mr Dizaei had Mr al-Baghdadi arrested and taken to a police station alleging that he had assaulted him.
But Dr Heath said the dimensions of the metal mouthpiece alleged by Mr Dizaei to have been used on him were not consistent with his injuries.
One end of the mouthpiece measured 0.5cm, the other end 0.7cm. Both ends were hollow.
'No bruising'
The inflamed areas on Mr Dizaei suggested they had been caused by a larger, round implement with a smooth edge, the court heard.
Dr Heath said if the shisha pipe had been used she would have expected to see a cut or bruise in the centre of the injury - and there was none.
She also described finding no marks on the knuckles, palms or fingers of the alleged assailant as she would have expected to see if he had have carried out an attack with the mouthpiece.
The trial continues.