Calls to save Tower Hamlets pub amateur gay strip night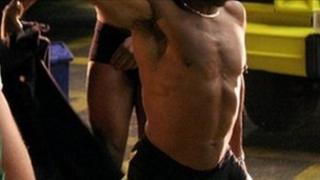 For the East End's gay community, the White Swan pub is something of a local legend.
Comedian Michael Barrymore has performed on stage there, Sir Ian McKellen and Graham Norton are among celebrities who stop by from time to time and for 26 years it has hosted a weekly amateur comedy strip contest.
That night, compered by a cast of east London's most flamboyant drag queens, sees volunteers from the audience take part in the show.
But it faces being banned following Labour-led Tower Hamlet council's recent sex establishment consultation.
The council has proposed to enforce new legislation which would allow it to close venues which offer lap-dancing, pole-dancing or strip tease.
But more than 600 of the pub's regulars and local residents have signed a petition saying the White Swan, in Commercial Road, should be excluded from the consultation as "there is no prostitution or exploitation on the premises".
'Comedy night'
The petition was presented at a council meeting on 29 November to independent councillor Rania Khan, who has been leading the campaign to shut strip clubs.
But its authors said they had "heard nothing" since, despite being told they would receive a response within 28 days.
A council spokeswoman said: "No decision has been made at present."
Ms Khan and Tower Hamlets' independent mayor Lutfur Rahman have been approached by BBC London but are yet to comment.
Barry Kirk, 59, who has been joint-owner of the venue for the past 26 years, said: "We've survived a lot over the years.
"But Wednesday is our only busy weeknight. If they kill off our Wednesday nights, we'll be threatened with closure."
He describes the regular event as a "fun comedy night".
"We've never had a complaint. We're not causing anyone any problems," he adds.
'Scantily clad'
Daryl Stafford, 49, from Shadwell, in east London, who organised the petition, said: "The legislation was originally set up to stop women being exploited and coerced into the sex trade.
"But there are no women involved in this. It's a men only night and stripping is voluntary."
Councillor Peter Golds, leader of the Conservative group at Tower Hamlets, who supports the petition, said: "I, like most reasonably minded people, have concerns about scantily clad women being exploited.
"But consenting adults looking for a laugh, a joke and comedy is not exploitation."
"It's fun. It's introduced by drag artists. It could probably be at any hen night in the country," he added.
When asked if he thought that including the venue in the consultation was homophobic, he said: "I think it is.
"It's in an area of which there are groups of people with particularly hard-line views on sexual minorities."
Mr Stafford agreed saying: "It certainly feels like it's extremely homophobic.
"It feels as though it's because it's a gay venue and there are a lot of people on the council who do not approve of having a gay venue in the middle of their borough."
Tower Hamlets has denied these allegations.
'Record response'
"Tower Hamlets Council came 16th in the Stonewall Top 100 employers of 2012 which showcases Britain's best employers for lesbian, gay and bisexual staff," a spokeswoman said.
"Valuing and celebrating diversity is one of the council's core values, as an employer and as a service provider," she said.
Meanwhile, local LGBT group Rainbow Hamlets' spokesman Jack Gilbert said: "The fear expressed to us is that a licensing policy driven by a majoritarian approach by tightly knit, residential communities, may actually lead to an unwelcoming atmosphere for LGBT venues down the road and an unsafe atmosphere for LGBT people."
The petition calls on the council "to prove its commitment to equality and exclude the White Swan from this discriminatory policy".
It states: "We note that Mayor Lutfur Rahman and Tower Hamlets Council is committed to equality for the Gay, Lesbian and Transgender community and that this should extend beyond mere publicity, but to actively opposing discrimination."
Mr Rahman was unavailable to comment on this, but at 2011's East London Gay Pride said: "I want you to be in no doubt, I will fight to ensure there is respect for lesbian, gay, bisexual and transgender culture and rights in the same way I will for all communities."
A council spokeswoman said: "The council has an innovative and proactive approach to tackling inequality and strengthening community cohesion."
Meanwhile, Stephen Coote, director of the Gay Business Association, said he believed the threat of ending the popular gay night would have a negative impact on the business.
"I echo the concerns that the council is not acting on behalf of the gay community," he said.
"There aren't many gay bars in east London.
"To have a successful establishment surviving to be threatened by the council is counterproductive."
The council said it had received a "record number of responses" to its sex establishment consultation and it was clear that residents felt strongly about the matter.
It added it hoped the final policy and adoption report would be put to cabinet in April.