Missing Jamie Oliver apprentice Kevin Boyle found dead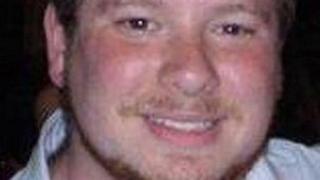 Police say the body of a man found in a back garden in south London was that of a chef who was one of Jamie Oliver's original TV apprentices.
Kevin Boyle, 26, described as a "bright and talented chef", worked at Jamie Oliver's Fifteen restaurant.
He was reported missing from Purley, south London, last October.
His body was found in Coulsdon on Sunday and his death is being treated as "unexplained", said a spokesman for Scotland Yard.
'Deeply loved'
Mark Humm, the youth minister at Mr Boyle's church, Purley Baptist Church, had previously said the last time he saw him he was "very upset about something".
Mr Oliver, who trained Mr Boyle as part of the Channel 4 series Jamie's Kitchen in 2002, said he was "deeply saddened" by the news.
He said: "I am proud to have been able to call Kevin a friend for 10 years and he was also a constant supporter of Fifteen and all the apprentices and graduates who came after him through the course."
Mr Boyle appeared in the final episodes of the programme, having been recruited into the group of 15 budding chefs when someone else dropped out.
He progressed to working at various restaurants, most recently Vinoteca in Clerkenwell, and had cooked for the Prince of Wales and former Prime Minister Tony Blair.
Peter Fosdike who set up a website to find Mr Boyle said the chef's friends had searched at restaurants and farms around the south-east of England because he was "passionate about farming and sourcing".
Speaking to BBC London, he said that he was in Geneva, Switzerland, looking for his friend when he heard the news.
He said: "A lady at our church had the words Geneva and Belvedere Road come to her when she was praying. I came to Geneva to visit my cousin, and decided to go the road.
"I was sitting on a bench, prepared to wait for three hours when I got the phone call."
He said he hoped Mr Boyle would be remembered for being an "exceptionally caring person who devoted himself to his friends".
A post-mortem examination is set to take place in Croydon on Wednesday.