Oxford Street burst water main repaired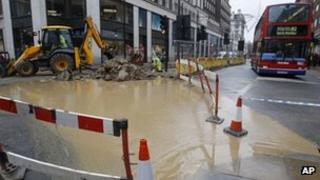 A water main which burst, flooding several shops in London's West End, has been repaired, Thames Water has said.
Work took place overnight to fix the 24in (61cm) Victorian pipe which burst on Thursday affecting 14 shops in Oxford Street.
Several stores, including Primark, Ann Summers and Next, were affected by "extensive flooding".
Thames Water said the pipe would be pressure-tested overnight to ensure it was water-tight.
The shops remain open for business.
'£1m damage'
Shop managers reported damage to basement-level areas including stock rooms after the main pipe burst..
Loss adjusters estimate the cost of damage to stock and premises could run to £1m.
The section of road between Portman Street and Duke Street is still closed to traffic, while Park Lane to Portman Street is open to eastbound traffic only.
A spokeswoman for Westminster Council said the authority was working with utility group, Thames Water, to make sure the road was fixed and back open to traffic as soon as possible.
The council said it hoped that several layers of concrete could be laid and set by Tuesday or Wednesday, but Thames Water said it could take up to a week.
A Thames Water spokesman said: "The Oxford Street water main, which burst on Thursday night, was repaired today and will be pressure-tested tonight to make sure it's water-tight.
"We aim to start pouring concrete on Sunday morning when the job of rebuilding the road over the 24in pipe gets under way.
"We are working with Westminster Council on this, and we expect the carriageway to be reopened to traffic towards the end of next week."
Boardroom change
Westminster City Council's Commissioner for Transport, Martin Low, said he was disappointed that water regulator, Ofwat, had not accepted Thames Water's five-year investment plan in 2010.
He said "it would have accelerated the renewal of water mains like this one".
An Ofwat spokesman said: "Thames Water has sufficient funding to manage its network effectively."
Thames Water said £1bn a year was being invested in updating sewers and pipes, more than at any other time in the water sector.
Friday's repair work coincided with news that a Chinese wealth fund had bought nearly 9% in Thames Water.
Thames Water said it amounted to a "change of names in the boardroom" but would not affect funding, either positively or negatively.