Occupy London protester in St Paul's eviction appeal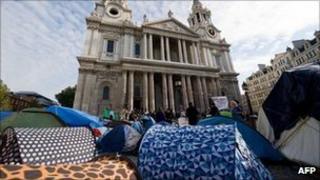 An Occupy London protester has lodged an appeal against a High Court ruling that ordered the group to move on from outside St Paul's Cathedral.
Tammy Samede applied to the Court of Appeal for permission to challenge Mr Justice Lindblom's decision.
The City of London Corporation won its case on Wednesday to remove the camp.
The judge said action to clear the protesters' tents was "entirely lawful and justified", adding that it was necessary and proportionate.
He refused the group permission to appeal, however he accepted that they could renew their applications directly to the Court of Appeal.
Two other protesters, who were defendants in the High Court case along with Ms Samede, have until 16:00 GMT on 27 January to apply directly to the Court of Appeal.
'Not the end'
The corporation has agreed not to enforce the orders until then.
It said there was an "overwhelming" case for the High Court's intervention because of the impact the camp had had on the cathedral.
The corporation added that it was not seeking to prevent lawful and peaceful protest, but argued that the right to protest did not justify a campsite on the public highway.
The local authority sought a possession order after the Occupy London group ignored an order to clear its tents from the public highway.
After the ruling, Ms Samede vowed that she would continue to "peacefully protest".
"This is not the end," she said. "Onwards and upwards."
The demonstrators, who are campaigning against corporate greed, have been occupying the central London site since 15 October.