Man jailed for Albert Wright 'revenge' murder in Hainault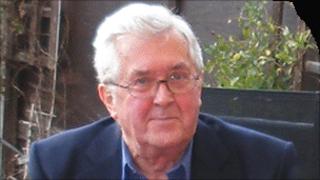 A man has been jailed for life at the Old Bailey for murdering a pensioner in east London, to exact revenge from his 80-year-old victim's son.
Albert Wright was stabbed at his home in Hainault in February 2011.
Mark Robinson, 35, from Green Close in Luton, pleaded guilty to murder and was jailed for a minimum of 21 years.
Mr Wright's son, David, was married to Robinson's mother. Robinson stabbed the pensioner "motivated by his hatred" of David Wright, the court heard.
The pensioner had lived in the house for 50 years with his wife June, who died in 2010. He was not the original target, the court heard.
'Gold-digger'
Robinson went to the house in Trelawney Road to kill David Wright, but he ended up stabbing the pensioner half-a-dozen times so that the victim's son "would have to live with it".
David Wright discovered the body, the court heard.
Roger Smart, prosecuting, said Robinson's mother and David Wright had been married for a short time, before she died of alcohol-related liver disease in 2009.
He said: "The murder was premeditated and motivated by his hatred of the deceased's son.
"He described him as a gold-digger.
"He held him partially responsible and wanted to inflict suffering on David Wright."
Sallie Bennett-Jenkins QC, for Robinson, said: "This is an exceptionally tragic case. He is truly remorseful for his actions."
Robinson suffered from depression after his mother's death and his life "began to unravel", the court was told.
Sentencing, Judge Andrew Bright said Robinson had "murder on his mind" when he went to the victim's house armed with a knife.