Isis Prison 'bedevilled' by faulty technology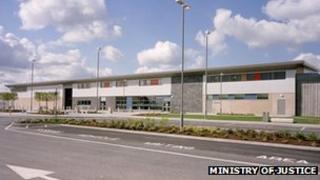 Faulty technology has "bedevilled" a new jail in south-east London, prison inspectors have claimed in a report.
When the fingerprint-based roll call system at Isis prison breaks, prisoners are stopped from moving around the site until manual checks are done.
The HM Inspectorate of Prisons' report says this "severely disrupts" the work, education and training of prisoners.
The National Offender Management Service (Noms) said it was working hard to create a safe environment.
Isis Prison is a category C prison which holds offenders aged under 25. It opened in July 2010 next to the high-security Belmarsh prison.
The report said a combination of relatively inexperienced new employees who lacked confidence and "detached" staff brought in from other prisons also caused problems.
'Frightened prisoners'
During the five day inspection, the fingerprint-based roll call system broke every day.
Nick Hardwick, the chief inspector of prisons, said the prison was "bedevilled" by the technology.
"For the system to work, 100% of prisoners, 100% of the time, had to leave an electronic thumbprint when they went from one area of the prison to another and the system had to record this every time," he said.
"If one thumb print failed to register, the roll check did not tally and all prisoner movement halted - sometimes for hours - until a manual check could be done."
He said poor staff-prisoner relationships led to officers resorting to force too quickly.
Mr Hardwick added: "We found frightened prisoners refusing to move from the induction unit on wing; little was being done to address their concerns and they spent most of the day locked in their cells."
Mr Hardwick also said that, if there were to be an emergency, "the dysfunctional cell call bell system gave us no confidence that officers would promptly attend".
Manage 'volatile population'
He did, however, praise the prison's progress on resettlement services, low drug use and support of prisoners at risk of self-harm.
Michael Spurr, Noms' chief executive, said: "The chief inspector rightly highlights the challenges Isis has faced in opening and running a new prison.
"Recruitment at Isis has posed a challenge but new staff are being absorbed well and are working hard to manage the volatile population."
He said the governor and staff were working hard to establish a positive culture and secure environment and added that he was confident they would continue to build on the progress made.