Burst water main floods shops in Oxford Street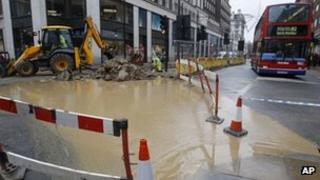 Shops in central London's Oxford Street have been affected by "extensive flooding" caused by a burst water main.
A section between Park Lane and Portman Street has been partially closed to traffic with 18 bus routes diverted, said Transport for London (TfL).
Thames Water said at least 10 shops had been flooded including Primark, Ann Summers and Next.
A spokesman said it could take days for traffic to get back to normal.
By midday, traffic was able to travel eastbound from Marble Arch as far as Portman Street, said Westminster City Council.
Continued disruption
The 25in (64cm) water main burst at about 20:30 GMT on Thursday.
By 23:00 GMT engineers had managed to close a series of large valves to stop water running out, said Thames Water.
By midday, one section of the road was reopened to eastbound traffic, said Westminster City Council.
A spokesman for Thames Water said: "Engineers have been working through the night to dig out the damaged road above the broken pipe to begin the job of repairing it. This job will take a few days."
He said the extent of the damage to shops was estimated to run into the "low-to-mid-hundreds of thousands of pounds".
Shop managers reported damage to basement-level areas including stock rooms, with a few inches of water in places, but said it would not affect them opening for business.
Holland & Barrett had closed its lower level but said the cost of the damage was not known yet.
Open for business
A Thames Water spokesman said: "We are really sorry to those customers whose properties were flooded.
"Our loss adjusters are already liaising with those customers to get the insurance process under way and get people's lives and businesses back to normal as soon as possible."
Ed Argar, Westminster City Council cabinet member for city management, said Oxford Street was still open for business, though motorists were being asked to avoid the area.
He said: "We are working with Thames Water and the New West End Company to ensure that this important part of London continues to function in the interests of businesses, residents and visitors."
London's water mains are among the oldest in the UK, with 44% over 100 years old, according to Thames Water.