Dizaei trial: Prosecution witness 'convicted fraudster'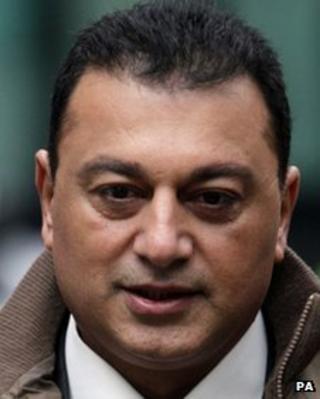 The main prosecution witness in the trial of Metropolitan Police commander Ali Dizaei is a convicted fraudster, a jury has heard.
Waad al-Baghdadi said he was "ashamed" that he had claimed pensions and other benefits on behalf of his dead father.
Southwark Crown Court was told that Mr al-Baghdadi had been jailed for eight months for fraud totalling £27,000. He was released last Friday.
Mr Dizaei, 49, denies misconduct and perverting the course of justice.
The charges relate to a row with Mr al-Baghdadi over fees for a website he had designed for the officer.
'Character assassination'
Danny Shaw, the BBC's home affairs correspondent who was in court, said during heated exchanges - which the judge had to intervene in a number of times - the defence suggested that Mr al-Baghdadi had lied to the authorities.
Mr al-Baghdadi told the jury that he had told immigration officials he was aged 17 when he entered the UK, when he was in fact 19.
He admitted that he had told the jury at Mr Dizaei's first trial that he had been born in Iraq, when he had in fact been born in Iran.
"It wasn't a big deal for me," said Mr al-Baghdadi. "This is a character assassination."
The court heard that the web designer continued to claim a pension for his father, after he died in 2006, and applied for other benefits, spending the money on himself.
"I'm not really proud of it; I'm ashamed of it, it was the wrong thing to do," he said.
On Tuesday, the court heard that Mr al-Baghdadi was arrested by Mr Dizaei, who accused him of assault.
He was held in custody for nearly 24 hours before he was released and assault charges were dropped through lack of evidence.
The trial continues.