Westminster's West End parking plan scrapped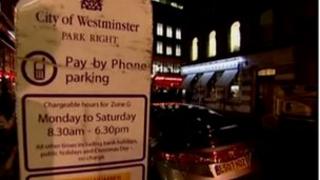 Westminster Council has announced it will scrap a plan to charge for evenings and Sunday parking in the West End.
The new levy of up to £4.40 per hour was to run until midnight, Monday-to-Saturday and on Sunday afternoons.
The move had provoked widespread opposition with protest groups claiming it was aimed at raising revenue and not cutting congestion.
A commission is to be set up by the council to consider new proposals.
The new charges were originally due to come in last December however the scheme was postponed until after the Olympics following a ruling in the High Court.
A coalition of campaigners including night workers, restaurateurs, clergy members and actors forced a judicial review into the plans.
'Criminally irresponsible'
Outgoing council leader Colin Barrow said: "We have listened to Londoners in the interests of the wider economy and will scrap the charging plans.
"We need to think long and hard about how we manage traffic in the West End to allow people to go about their business, but it's clear that these specific proposals did not command public support.
"I also felt after reflecting on this issue, that it was right to act swiftly rather than wait for the election of a new council leader in order to provide clarity for the future."
Councillor Lee Rowley, cabinet member for transportation and parking, said the council would think "radically about how we manage traffic in the West End in the future."
He added: "Our Commission will consider all credible strategies for managing traffic and we'll reset our parking policies to focus on common sense measures that are fair but encourage people to keep to the rules."
BBC London's Transport Correspondent Tom Edwards said businesses, theatres and churches would greet the news with delight.
Richard Dickinson, chief executive of New West End Company representing businesses in Bond Street, Oxford Street and Regent Street said he welcomed the decision, saying the council had made a "responsible and commendable" decision that would benefit the West End.
Actors Tom Conti, Linda Bellingham, Bill Paterson and Roger Lloyd-Pack were among those who came out against the effect it would have on the city's Theatreland.
Conti said it was "criminally irresponsible" and last month London Mayor Boris Johnson called the move "completely mad".
The government also criticised the scheme.
Mr Barrow announced his resignation last Friday but insisted it was not connected with the parking row, saying he wanted to "devote more time to other areas" of life.