Blitz veteran butchers in Islington faces chop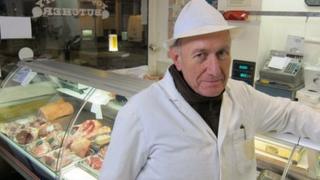 King Edward VII was on the throne when Maurice Wood's grandfather opened his small Islington butcher's shop.
It was 1909, and construction had just begun on the Titanic.
The store remained open for business every day throughout World Wars I and II.
Yet a butcher's shop that survived the Nazi Blitz may finally shut its doors - because of a more modern problem - the building of an electric sub-station.
Mr Wood said the trouble began when permission was granted for a block of 33 flats next to the shop - and building work started on the sub-station.
The proposed sub-station will be 17 sq m in area and 2.7m high - all situated within a metre of both Mr Wood's meat preparation area in his shop and his bedroom, which the butcher said he had health concerns about.
He said: "Islington Council are in partnership with the developers - there is social housing there and it's a joint partnership.
"So it was a done deal and they had already made their minds up no matter what happened to me.
"We're in a protected area and I can't change my shop front without applying to the council - yet they can build a massive substation outside my shop."
Mr Wood continued: "I'm really sad about the situation as I love the business so much.
"I've seen the children of customers grow up, and now their children are in their 20s and come here.
"But the reaction from the community's been truly amazing."
Almost 400 customers have signed a petition backing Mr Wood, who took over the business in 1958.
Some 60 people protested outside the shop, with 70 letters of complaint sent to the council.
One protester wrote on an online petition: "Islington Council should be doing their best to protect shops like this, rather than forcing them out of business."
There is no scientific proof that substations are a health risk.
The council said that because of that it had no legal recourse to prevent it.
'Adverse effect'
However, in a dispute over a substation in Wimbledon in 2009, adjudicator sided with protesters over health concerns.
Merton Council had refused planning permission for a three-storey house which neighbours objected to because of a proposed substation.
And the developer's subsequent appeal was rejected.
Planning Inspectorate inspector Paul Jackson wrote: "Fear of an adverse effect is also capable of being a material planning consideration, even if there is no evidence to support such a fear.
"Although there is some controversy, there is evidence low-frequency electric and magnetic fields are a carcinogen and might contribute to childhood leukaemia.
"Whilst EMFs diminish rapidly with distance, the substation would be within a few metres of sleeping accommodation where long-term exposure would be likely."
The judgement concluded a "significant fear of harmful effects" meant the plan would "not conform to planning policy that new development should provide a safe residential environment".
Louis Leigh, a customer who is helping Mr Wood's campaign, said: "Islington Council said if they had rejected planning permission for the substation, it would have gone straight to appeal and been overturned.
"But the Wimbledon case shows that this would not necessarily be the case.
"And in this instance considerable fear of an adverse effect was taken into account as a 'material planning consideration'."
He added: "Hopefully it's not too late for them to listen to the people and find an alternative site for the proposed electrical substation."
'Hands tied'
Labour councillor Paul Convery, who sits on Islington Council, said: "I am as sorry as anybody that Maurice is going to close, but there is no evidence that having a small substation next door poses a health risk.
"Without evidence, we could not turn down the application as we would lose on appeal.
"I don't want to lose this butchers or any of our local businesses, but our hands were tied."
The developer's agent, Four Square Management, said that Mr Wood had had his own building plans.
A spokesman claimed it was only when this plan fell through that Mr Wood raised objections to it, saying they had letters proving this.
However, they said they could not provide the letters for legal reasons.
Mr Wood said he had simply suggested a plan whereby the substation would be moved into his own garden - but further from his house.
The butcher said his architect therefore drew up a plan to incorporate the patch of land where the plant is due to be built into his own property as recompense.