London 2012: Sprinter James Ellington secures sponsor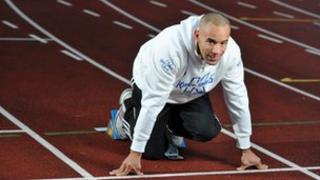 An Olympic hopeful from south London who took to eBay to seek a sponsorship deal has secured backing from elsewhere after the eBay deal collapsed.
James Ellington, 26, from Lewisham, secured a bid of £32,550 in December.
But shaving brand King of Shaves founder Will King tweeted the sprinter directly, telling him to get in touch should the eBay deal fall through.
Ellington later found out the eBay bid was not genuine and as a result, King of Shaves secured the sponsorship.
The sprinter had previously lost out on sponsors through four years of injury problems.
He said he had managed to qualify for the Games despite no lottery support, kit deal or any kind of endorsements.
Ellington said: "I personally want to thank all of the people who emailed, tweeted and wrote to me.
"I've been so touched by all of your messages of support and even donations to my cause.
"Whatever I manage to achieve at London 2012, I'm doing it for you."
The athlete - a 100m, 200m and relay sprinter - ran the fastest 200m by a British athlete in 2011 at a non-altitude venue, in a time of 20.52 seconds.
Mr King said he was delighted to be involved with Ellington's Olympic bid.