Ali Dizaei trial: Arrested man felt 'scared and threatened'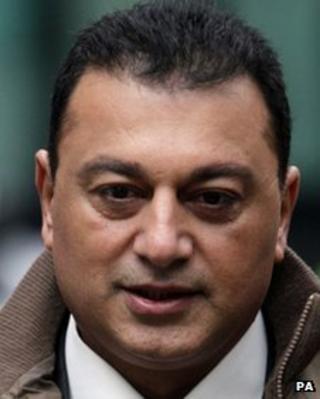 A man who says he was wrongly arrested by a Met Police commander felt "scared" and "threatened", a court heard.
Waad al-Baghdadi was in dispute with Ali Dizaei over a payment to create a website for the officer, Southwark Crown Court was told.
The jury heard that in 2008 he was arrested by Mr Dizaei, who accused him of assault.
Mr Dizaei, 49, denies charges of misconduct in a public office and perverting the course of justice.
In July 2008, Mr al-Baghdadi visited a restaurant owned by Mr Dizaei's uncle in Kensington, west London, the jury heard.
Mr al-Baghdadi told the court Mr Dizaei was there and he "could feel his anger".
The web designer was asked to leave and as he walked away he said he called the police for his own protection, the court was told.
The court was told that as he talked to the police operator Mr Dizaei was claiming Mr al-Baghdadi had assaulted him.
He told the jury he had not assaulted or threatened Mr Dizaei.
"If I had, I wouldn't have called 999 - I called 999 for protection," he told the court.
"I was confused and scared."
Mr Dizaei arrested him and handcuffed him and then called in other officers to take him to the police station.
He alleged Mr Dizaei said: 'Where are you going to go. I know everything about you and I will find every single detail about your life.'"
Terrorist 'worry'
The court heard he was taken to Hammersmith police station and when Mr Dizaei arrived he told the custody sergeant Mr al-Baghdadi had spat at him and stabbed him with the mouthpiece of a shisha smoking pipe.
Mr al-Baghdadi told the court: "That was crap, completely nonsense, not true, completely lying."
He told the court he was worried that, as an Iraqi, he would be put in prison for being a terrorist.
Despite being held in custody for nearly 24 hours he was eventually released and assault charges were dropped through lack of evidence.
The trial continues.