London mayor gains powers over the Metropolitan Police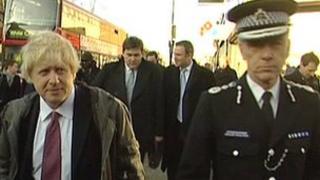 London's mayor is now responsible for the Metropolitan Police's priorities and performance, as part of government plans for elected commissioners.
The Metropolitan Police Authority was disbanded at midnight and replaced by the Mayor's Office for Policing and Crime (MOPC).
MOPC will be monitored by the London Assembly's Police and Crime Panel.
Operational matters will still be the responsibility of the Metropolitan Police commissioner.
The mayor will also set the annual force budget for the Metropolitan Police in consultation with the commissioner.
But the mayor does not have the power to appoint or dismiss the commissioner, or the deputy commissioner.
Safe city
Mayor Boris Johnson said his priorities will include serious youth violence, knife crime, getting more officers on the streets, tackling gangs, robbery, burglary and cutting reoffending rates.
He said: "Londoners rightly expect to live in a safe city and I'll now be keeping an even closer eye on every aspect of policing, ensuring more than ever that the crimes that most concern Londoners are addressed."
Labour's Ken Livingstone, who is standing against Mr Johnson in May's mayoral election, used the opportunity to again claim that police numbers were falling.
He said: "The mayor's own policing documents show the overall number of police officers is set to fall even further by 2014.
"Londoners want the mayor to use the new responsibilities to put more police officers on the streets to make our streets safer rather than cutting them."
Liberal Democrat mayoral candidate Brian Paddick said Mr Johnson's claim that he will keep a closer eye on policing is "laughable".
He added: "I have more than 30 years experience of reducing crime, focusing officers' efforts on what local people want and making sure it was done fairly.
"Crime is what Londoners are most concerned about and no other candidate is better qualified to be Mayor of London, now controlling the police goes with the job."
'System has faults'
Green candidate Jenny Jones said: "The new system has its faults, but luckily the assembly's tough scrutiny role will help separate fact from fiction when it comes to the mayor's statements on policing.
"London's police must keep us safe by being more representative, maximising their community links for good intelligence, and showing themselves able to change with the times."
The change is part of the Police Reform and Social Responsibility Bill which aims to give people a say in how they are policed.
London's police body is the first to launch as it already has a directly elected mayor.
The rest of the country will follow in November 2012 after local elections are held.