Go-ahead for new square for London's King's Cross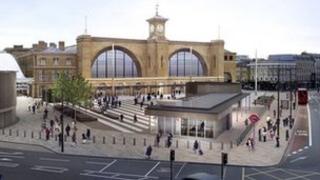 Plans to develop London's newest public square at King's Cross station have been approved by Camden Council.
The space will be larger than Leicester Square and form the final part of the redevelopment of the station, Network Rail said.
The design, by architects Stanton Williams, will reveal the Victorian Grade I listed station façade for the first time in 150 years.
Work will begin after the Olympic and Paralympic Games.
In place of the current 1970s concourse extension there will be a 7,000 sq m (75,347 sq ft) open space with Yorkstone and granite paving and a seating area.
Camden Council approved the scheme on Thursday.
English Heritage said it was satisfied with steps to keep the "historic environment" and Design for London said it strongly supported the design which would be a "major enhancement" for the area.
Ian Fry, Network Rail's programme director at King's Cross, said: "The station is at the heart of the regeneration of the King's Cross area and it is great news for passengers, businesses and the community."