Ali Dizaei trial: Met Police commander 'abused powers'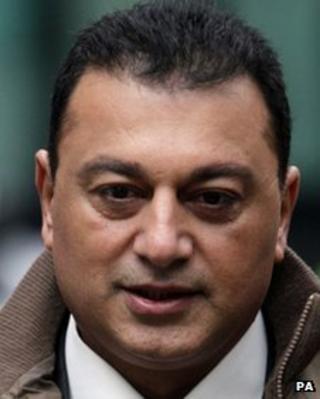 A Metropolitan Police commander abused his powers for his own benefit, a court has been told.
Ali Dizaei "bullied and intimidated" a man after a row outside a restaurant in 2008, Southwark Crown Court heard.
The prosecution said his actions amounted to the "wholesale abuse" of police powers for his own "personal and oblique motives".
Mr Dizaei, 49, denies charges of misconduct in a public office and perverting the course of justice.
Prosecutor Peter Wright QC said the former officer "threatened" Iraqi Waad Al-Baghdadi in a row over payment for a personal website.
He then wove a web of lies in the aftermath of the row outside the Persian Yas restaurant in west London, the court was told.
Mr Wright said actions like Mr Dizaei's had a "corrosive" impact "between citizen and police generally".
The prosecutor said: "He was, in fact, pursuing a citizen for his own personal motive."
'Urgent assistance'
Jurors listened to a 999 call Mr Al-Baghdadi made during the confrontation, in which they heard him say, "No, no, no" before Mr Dizaei said to him "I am arresting you".
Dizaei also made an emergency call, saying "I have made an arrest, I need urgent assistance", the court heard.
The jury was also shown CCTV footage of Dizaei in the restaurant.
When police arrived at the scene, Dizaei was in full uniform, the court heard.
The officer then claimed he had carried out the arrest after being poked in the chest with a shisha pipe.
This was disputed by a medical examination in the early hours of Mr Dizaei's injuries, Mr Wright added.
According to prosecutors, the medical examiner's "conclusion was that this area of inflammation were more likely to be consistent with self-inflicted injury".
Mr Al-Baghdadi, who had been kept in a cell, was released on bail before charges were dropped.
Jurors have already been told that Mr Dizaei, from Acton, west London, is being retried for the charges.
IPCC investigation
The prosecution followed an investigation by the Independent Police Complaints Commission (IPCC).
The first charge alleges Mr Dizaei is responsible for misconduct in a public office by threatening Mr Al-Baghdadi and by "purporting to arrest and detain" him, knowing he did not have reasonable grounds.
The second charge alleges the father-of-three "did a series of acts which had a tendency to pervert the course of public justice" by falsely alleging in oral and written statements that he had been the victim of an unprovoked physical assault".
The £90,000-a-year senior officer is a former president of the National Black Police Association.
The trial has been adjourned until Monday.