Witch torture trial: 'No attempt to save brother'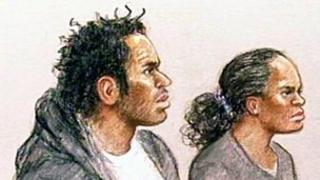 A woman made no attempt to stop her boyfriend torturing and killing her teenage brother over claims he was a witch, a court has heard.
Kelly Bamu, 21, told an Old Bailey jury that her sister Magalie failed to act when their younger brother was subjected to a horrific ordeal.
Kristy Bamu, 15, was attacked with objects including a hammer before drowning in a bath in a Newham flat.
Eric Bikubi and Magalie Bamu, both 28, both deny murder.
Bikubi has admitted manslaughter on the grounds of diminished responsibility, and to causing actual bodily harm to Kelly and a sibling who cannot be named.
Magalie Bamu denies murder and causing actual bodily harm to her siblings.
'In it together'
Philippa McAtasney QC, for Magalie Bamu, told the court the accused was as "powerless" as her siblings to stop Bikubi.
She asked Kelly Bamu: "You're upset because as you see it she failed to protect your brother, but she was as powerless as you all were, wasn't she, in fairness?"
The witness replied: "Really, she was powerless? No. She could have stopped it and she didn't.
She added: "She could have said to Eric 'Stop, stop that's enough now' and he would have stopped."
Ms McAtasney said: "Nonsense, that is nonsense. That man had completely lost it, hadn't he?"
Kelly Bamu replied: "He was aware of what he was doing. There was all the blood around, he could see that blood around.
"He was aware of what was happening, now he says he was suffering from insanity. He knew what he was doing."
She told the jury that the accused were "in it together".
Kristy Bamu, from Paris, was found drowned in a bath at the couple's flat in Forest Gate, east London, on Christmas Day 2010, after allegedly being tortured when he was accused of witchcraft by the accused pair.
The case continues.