Bermondsey rapist Michael Roberts jailed for life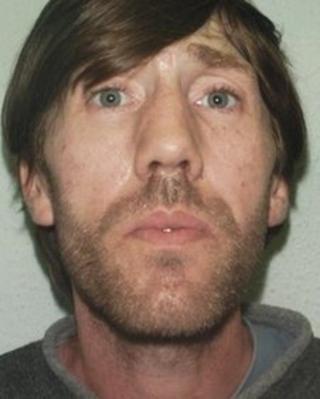 A rapist who terrorised elderly women for more than a decade will spend the rest of his life in jail.
Michael Roberts, 45, raped three victims, one aged 83, and viciously attacked a fourth in Bermondsey.
He was captured after a cold case review by Scotland Yard.
Judge Stephen Robbins said: "I do sentence you to imprisonment for the rest of your natural life. Your utter depravity knows no bounds, these are very grave offences."
Following a trial at Southwark Crown Court, Roberts was given four life sentences.
Police had long been baffled as to the identity of the rapist, known as the "Bermondsey Beast" and also as "the Praying Rapist" after a victim recalled him crossing himself and uttering part of a Catholic prayer.
He carried out a string of violent burglaries as well as the sex assaults between December 1988 and June 1990.
Substantial record
All of Roberts' victims, the youngest of whom was 57, lived less than a mile from his previous home addresses in Gaywood Street.
Roberts, who had a "substantial criminal record", attacked the 57-year-old woman so savagely that she was left with a broken jaw and a fractured eye socket.
Comparisons were made to fellow serial rapist Delroy Grant, known as the Night Stalker, but Judge Robbins said Roberts used even more gratuitous violence.
The judge said: "You terrified a whole community of south London, people in south London had been living in fear that they might be your next victim.
"Over the years the decades went by and you evaded arrest.
"Your actions blighted the remaining years of their lives.
"Their homes should have been their safest refuge where they could expect to live their lives undisturbed and in peace. You must have distilled complete terror and fear one can only imagine."
Roberts was found guilty in December of three counts of rape, four counts of burglary, two indecent assault charges, two counts of causing grievous bodily harm and one of serious sexual assault.
'Vile attacks'
He was arrested in 2005 after officers identified a DNA match.
At that time, he was serving a life sentence for the brutal robbery and assault of an elderly man in his home in Lee.
Det Insp Nathan Eason, who led the investigation, said: "Michael Roberts had no regard for the lives of others and picked on those least able to defend themselves.
"In the late 1980s he went even further by committing vile sexual attacks which are beyond most people's comprehension."