Stephen Lawrence Centre in Deptford 'at risk' of shutting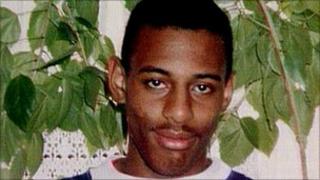 A centre set up in the memory of murdered teenager Stephen Lawrence is in danger of being shut because of a lack of funding, his mother has said.
Mr Lawrence, 18, was stabbed to death in 1993 by a gang of youths in Eltham.
Gary Dobson, 36, and David Norris, 35, were recently jailed for the murder.
Doreen Lawrence has said the Stephen Lawrence Centre in Deptford - which aims to help young people from disadvantaged backgrounds - may close unless more money can be found.
The centre provides training courses in areas such as IT and the creative arts.
Doreen Lawrence said: "We've been experiencing financial hardship for a while, but now as time's gone on it's got really bad.
'Squeezed so much'
"The situation's been getting more and more difficult.
"We find ourselves in the situation now where funding's been squeezed so much.
"People believe because Stephen Lawrence's name is so high profile the trust doesn't need any help - but we need help desperately."
She said charities such as this one were finding it difficult to continue their work.